He's a chip off the old block. Simon Messner, 28-year-old son of the legendary South Tyrolean climber Reinhold Messner, says he succeeded the first ascent of the 6,200-meter-high Toshe III in the Karakoram last Saturday. The widely glaciated Toshe mountain range lies about 18 kilometers as the crow flies southwest of the eight-thousander Nanga Parbat. Simon climbed in a style that should please his 74-year-old father.
Light and fast
"Due to the difficult snow conditions, the warm temperatures and the very unstable weather I decided to climb the mountain in a single solo push from Advanced Base Camp (at approximately 4,600m)," Simon Messner writes on Facebook: "The plan was to climb light and fast to avoid the bad weather coming up and although I had to track every single meter I reached the summit at 9:30 am (needing 5,5h in total)." The avalanche risk on the descent was high, according to Simon, but he was able to reached the base camp on the same day.
No bolt yet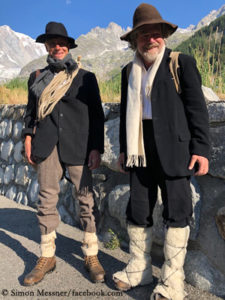 Simon Messner was a late bloomer in the mountains. He did not start climbing until he was 15, 16 years old. "The topic was too present in my family – too common to interest me at all – on the other hand I was afraid of heights", Simon reports on his website. Finally he overcame his fear. "'Don't fall, then nothing can happen' was my motto. It has remained so to this day." Simon Messner has already opened new climbing routes in the Dolomites, Tyrol and the US state of Utah. "To date, I haven't set a single bolt," writes Simon Messner. Reinhold Messner should also like that. Father and son have already realized several film projects together.
In two weeks to the summit of Broad Peak
After yesterday's reports on summit successes from Nanga Parbat, the season's first from the eight-thousander Broad Peak followed today. The Austrian expedition operator "Furtenbach Adventures" announced that their team had reached the 8,051-meter-high summit in the morning. Mountain guide Max Berger had left home only two weeks ago, they said. "Furtenbach Adventures", founded by Lukas Furtenbach in 2014, has been offering so-called "Flash Expeditions" to eight-thousanders since last year, including Mount Everest. The members prepare at home for the high altitude with a specially developed hypoxia training and system in order to be as short as possible on the mountain. To make this possible, Furtenbach relies on more bottled oxygen and more sherpas than usual, especially on Everest.
Update 4 August: Simon Messner has succeeded in another first ascent in the Karakoram. Together with the Austrian Martin Sieberer he reached the 6,718-meter-high summit of the Black Tooth in the Mustagh Tower massif on 26 July – in bad weather. "It was snowing all the day and we had very bad sight. ," Simon writes on Facebook. "As we had decided to leave our tent behind – because anyhow it was too steep to set it up and we had to save weight – we now had to downclimb the mountain the same day and night to not get stuck in bad weather. It was a great adventure."