She kept it a secret for a long time. It was only on the plane to Islamabad that she laid her cards on the table: along with many others, South Tyrolean climber Tamara Lunger also wants to try her hand at K2 this winter. This has been "a dream of mine for years," says the 34-year-old in a video she posted on Instagram. "I'm so excited." Back in October, Tamara had appeared on the long K2 expedition member list that the Nepalese operator Seven Summit Treks had posted on social media. Lunger had been upset about it and had made sure she was removed from that list. Maybe Tamara just wanted to have her peace in the run-up.
Without bottled oxygen on K2 in 2014
In 2010, the South Tyrolean scaled Lhotse using a breathing mask – at the age of 23 as the youngest woman in the history of this eight-thousander at the time. In 2014 she turned to K2 and reached the summit at 8,611 meters without bottled oxygen.
Tamara has plenty of winter experience. In 2015 she failed with the Italian Simone Moro on the eight-thousander Manaslu, heavy snowfall made an ascent impossible.
Shortly below the summit of Nanga Parbat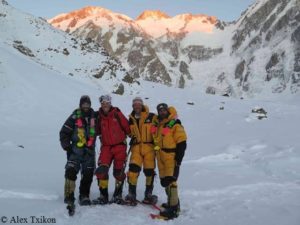 On Nanga Parbat in February 2016, she was only 70 meters short of the glory of becoming the first woman among those who succeeded winter first ascents of eight-thousanders. While Moro, the Spaniard Alex Txikon and the Pakistani Muhammad Ali Sadpara climbed to the summit, Lunger turned back. During the whole summit day she had felt bad, she quasi had dragged herself up the mountain. Then God spoke to her, Tamara told me in 2018: "Normally I always get what I ask for. But that day, ten hours of praying did not help. Then I knew there was something wrong." In the descent she slipped. "It was my experience closest to death so far. I also talked to the Lord when I fell: 'I didn't think it would happen so early now. But if that's the way it has to be, I'm ready, and that's okay.'" After 200 meters Tamara stopped slipping in loose snow.
Successful rescue
In February 2018, Lunger and Moro made the first winter ascent of the 3,003-meter-high Gora Pobeda (also known as Peak Pobeda) in freezing eastern Siberia in temperatures around minus 50 degrees Celsius. In January 2020, the two failed in the Karakoram with their plan to climb the eight-thousanders Gasherbrum I and II in succession. Moro fell into a crevasse, Tamara managed to stop the fall with the rope and help her teammate out of the crevasse.
"Send me lots of energy!"
Actually, Tamara Lunger loves to be on the mountain in a small team and with clean style. On K2, however, the 34-year-old will experience a base camp more crowded than she has ever seen before on one of her winter expeditions. Some 60 climbers from 19 countries will attempt the world's second-highest mountain, the only one of the 14 eight-thousanders that has never been scaled in winter. "There will be a lot of people there – as you may already know from the media," Tamara tells her fans in the Instagram video. "So please send me lots of energy to help me stay focused no matter what!"
Nepalese announce Manaslu winter attempt
For the first time, she will also be on a winter expedition without her mentor Simone Moro. The 53-year-old will return to Manaslu with the Spaniards Alex Txikon and Inaki Alvarez. A Nepalese duo now also announced a winter attempt on the eighth highest mountain on earth: According to their own words, Tenji Sherpa and Vinayak Jay Malla want to climb Manaslu in alpine style – without stocked high camps, fixed ropes and bottled oxygen.
Update 22 December: In the meantime, it has also been confirmed that Tamara will form a team with the Romanian climber Alex Gavan and both want to climb without bottled oxygen. The 38-year-old has summited seven eight-thousanders without breathing mask: Cho Oyu (in 2006), Gasherbrum I (in 2007) and II (in 2019), Makalu (in 2008), Manaslu (in 2011), Shishapangma (in 2013) and Broad Peak (in 2014). Alex and Tamara met in 2014 while trekking to Broad Peak and K2 respectively, they have never been on the mountain together so far.