A rising star in the German mountaineering sky has gone out much too early. Robert Grasegger died in an avalanche accident in Patagonia. The mountaineer from the village of Grainau near Garmisch-Partenkirchen was only 29 years old. His partner, a 28-year-old female climber from Austria, was rescued seriously injured, her condition is stable, according to Argentine media reports.
Swept down by wet snow avalanche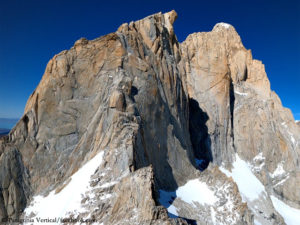 Together with their German team mate, the two had attempted last Thursday to climb the Aguja Guillaumet, a 2,579-meter-high granite peak in the Fitz Roy massif. Grasegger and his girl friend were climbing a 45-degree snowfield when they were caught in a wet snow avalanche and swept into the scree below.
Their German team mate, who was in the rocks on the edge at the time of the accident, first took care of the two seriously injured. Then he went for help. Rescuers arrived late Thursday evening, found the Austrian climber in the darkness, but not Grasegger. It wasn't until Friday morning that they discovered the body of the German climber.
"I don't run out of goals"
In November, Robert Grasegger had completed his mountain guide training – with the certificate of the International Federation of Mountain Guides Association (IFMGA). At the same time, he had made a name for himself in the climbing scene in recent years, especially with first ascents in ice and mixed climbing in the Alps.
"The tours kept getting bigger, but I still don't run out of goals," Robert wrote. "I love to discover the world climbing: from a ski climb of Elbrus to Bolivia and Patagonia to the Nose on El Cap, it's been everything."
Grasegger's many rope partners included top British climber Tom Livingstone – but also former German world-class biathlete Laura Dahlmeier, an avid climber.
Cycling through the Alps
Most recently, Robert had been on route in the mountains mostly with his girl friend from Austria. Last summer, the couple had crossed the Southern Alps from Innsbruck to Slovenia by bike, had done some rock climbing and had also summit Triglav, the highest mountain in Slovenia.
At the turn of the year, Robert had changed his sponsor. "Now I am (…) looking forward to new adventures," he wrote in his last Instagram post on New Year's Day. Unfortunately, it was not to come to that anymore. Previously, when describing his life in the mountains, he had once put the quote: "The mountains can give you a lot, but also take everything away." As if he had guessed.