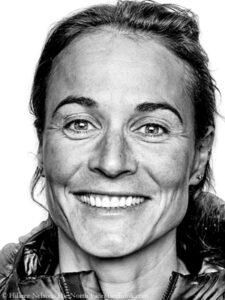 Now it has become a sad certainty: The world-renowned ski mountaineer Hilaree Nelson is dead. As reported by the newspaper "Kathmandu Post", the body of the 49-year-old US American was discovered and recovered on the south side of Manaslu at an altitude of about 6,000 meters. A rescue helicopter had previously dropped off three Nepalese guides and Hilaree's partner Jim Morrison at an altitude of 6500 meters to search for the missing climber. After they discovered Hilaree's body, it was first flown to the base camp. From there it would be taken to Kathmandu, they said.
Small avalanche
As reported, Nelson had reached the summit of Manaslu on Monday together with Morrison – with bottled oxygen. The two had then set off on their ski descent. Still in the summit zone Hilaree then fell to her death. Jim described it this way on Instagram today: "I skied first and after a few turns Hilaree followed and started a small avalanche. She was swept off her feet and carried down a narrow snow slope down the south side (opposite from climbing route) of the mountain over 5000'. I did everything I could to locate her but was unable to go down the face as I hoped to find her alive and live my life with her."
"Adventurer of the year 2018"
In 2012, Nelson had become the first woman to stand on two eight-thousanders within 24 hours (with a breathing mask): first on Mount Everest (8849 meters), then on the neighboring Lhotse (8516 meters). Also on Lhotse, Hilaree had achieved another coup in fall 2018 with her partner Jim Morisson. After ascending with bottled oxygen, the two had mastered the so-called "Dream Line" on skis for the first time: from the summit through the narrow Lhotse Couloir, which is around 45 to 50 degrees steep, down to Camp 2 in the Western Qwm at 6,400 meters.
The magazine "National Geographic" named her "Adventurer of the Year 2018". Previously, Nelson had also succeeded in ski descents of the eight-thousanders Cho Oyu (2005) and Makalu (2015). Hilaree leaves behind two sons, 15 and 13 years old.