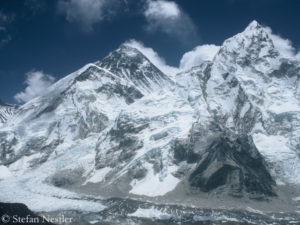 Some pictures say more than a thousand words. Like that shot of Nepalese mountaineer Nirmal Purja from the crowded summit ridge of Mount Everest, which has been making headlines worldwide since the 36-year-old published the picture last Wednesday in the social media (see below). More than 300 people reached the highest point on earth on that day, among them Nirmal, who this spring scaled six eight-thousanders within four weeks as part of his project "Mission Possible" (all 14 eight-thousanders in seven months) – with bottled oxygen, via the normal routes.      
Nirmal's picture might even have opened the eyes of people who have no idea of mountaineering to the fact that such traffic jams in the death zone must simply be life-threatening. Today, two more deaths have been reported from Everest: On Friday a 56-year-old Irishman died on the Tibetan north side of the mountain, on Saturday a 44-year-old Briton on the Nepalese south side, both obviously of high altitude sickness. Ten people have already died this season on the world's highest mountain.
Bad weather, too many people
The German professional climber David Göttler had – as reported – tried on Thursday to reach the summit of Everest from the south without bottled oxygen. Below the South Summit, the 40-year-old turned around, on the one hand because the weather was getting worse, on the other hand because a lot of people came down from above and he feared traffic jams like on Wednesday.  David left Everest Base Camp today. Beforehand he answered my questions.
David, you were on Everest without bottled oxygen at 8,650 meters, which is higher than the second highest mountain on earth, K2. How does that sound in your ears?
Continue reading

"David Göttler on Everest debate: "Pretending to be surprised is gimmickry""