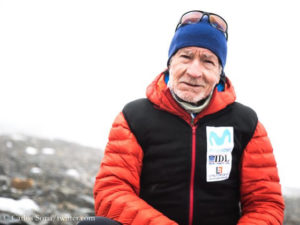 Actually, one could almost rename Dhaulagiri, the "white mountain": to Soriagiri, "Soria's mountain". For the eleventh time now (as he himself says – according to Himalayan Database it is already the twelfth time since 1998) the Spaniard Carlos Soria is trying to scale the 8,167-meter-high Dhaulagiri in western Nepal. Taken together, Carlos has spent more than a year and a half of his life on the seventh highest mountain on earth. Once, in fall 2017, Soria was almost at the top. At 8,050 meters, he had to turn back because he and his fellow climbers lost their bearings in the summit zone and took the wrong couloir.
What makes his persistence on Dhaulagiri even more unusual is Carlos' age: he is now 82 years old. The former upholsterer, who lives in the small town of Moralzarzal near Madrid, has already summited twelve eight-thousanders – eleven of them at over 60. Only Dhaulagiri and Shishapangma are still missing from his collection. He holds the age records on K2 (65 years), Makalu (69, at that time he climbed without bottled oxygen), Gasherbrum I (70), Manaslu (71), Lhotse (72), Kangchenjunga (75) and Annapurna (77).
Never called on rescuers
"But the record I'm most happy about is that in my 68 years as a climber I've never had to be taken down from a mountain, I've always climbed alone. And I've never gotten frostbite," Carlos said in a YouTube video (see below) announcing his new attempt on Dhaulagiri.
Like many other climbers, the Corona pandemic had slowed Soria down last year. "I want to show that we older people still have many dreams, much will to live. We've been through a very bad time. And there are people I want to encourage to keep that will to live."
Many younger climbers could take a page from Carlos' will. In late 2018, he got a knee prosthesis. Nine months later, he set off again for Dhaulagiri – and failed again. He has been training hard again for his expedition this spring: early in the morning on the ergometer in his garage and then in the mountains at home in the Sierra de Guadarrama.
On 5 April, Soria plans to leave for Nepal. If things finally work out on Dhaulagiri this time (with bottled oxygen), he plans to climb Shishapangma next fall to complete his eight-thousander career. "After that, I'll do other things. There are beautiful mountains lower down," Carlos told the Spanish portal "Uppers": "I will continue to do what my body and my common sense allow me to do. Wanting to force doesn't make sense."
Attempts without bottled oxygen
Slovakian Peter Hamor has already summited all 14 eight-thousanders – all except Mount Everest without bottled oxygen. In 2017, he completed the collection with Dhaulagiri. Romanian Horia Colibasanu has scaled nine eight-thousanders without reathing mask so far, including Dhaulagiri in 2011. There, Peter and Horia now want to complete a new route together via the still unclimbed Northwest Ridge. In spring 2019, they had not reached higher than 5,600 meters due to bad weather. Third in the group is, as two years ago, Romanian Marius Gane.
Via the normal route, but also without bottled oxygen, the 28-year-old climber Estefania ("Stefi") Troguet from Andorra wants to climb to the summit of Dhaulagiri. In 2019, she stood on the summits of Nanga Parbat and Manaslu, without breathing mask. Stefi, who is busy on social media and can never be seen there without red painted lips, has announced that she wants to climb all eight-thousanders without bottled oxygen. For the coming summer, she has set her sights on K2 and Broad Peak in the Karakoram in Pakistan.
P.S.: Carlos Soria complains that no one wants to sponsor him. He attributes this to the difficult economic situation caused by the pandemic – and to his advanced age. So if any company feels addressed, go ahead!