That was a speedy return. Only two days after, according to the operator Dolma Outdoor Expeditions, Gelje Sherpa's five-member team had stood on the summit of Kangchenjunga the four Sherpas and their client already presented themselves at a photo session in the garden of a hotel in Kathmandu. On Saturday noon expedition leader Gelje and the Sherpas Nima Gyalzen, Dakipa and Pasang Rinjee had reached the highest point at 8,586 meters along with their Taiwanese client Tseng Ko-Erh, the company had communicated before. Apparently, they all used bottled oxygen – if they hadn't, it would probably have been announced.
It was the first and only summit success on the third highest mountain on earth this fall. A team from the U.S. operator Alpenglow Expeditions – also with only one paying client – had advanced to Camp 4 at around 7,500 meters, but ultimately abandoned the expedition after a failed summit attempt because the client's time window had closed.
From Icefall Doctor to eight-thousander collector
With his success on Kangchenjunga, Gelje Sherpa is one step closer to his goal of becoming the youngest mountaineer to scale all 14 eight-thousanders. The "Mountain Tiger," as he calls himself, turns 29 on 12 November. So far, Mingma David Sherpa, who completed his collection of eight-thousanders in 2019 at the age of 30 years and 166 days, is listed as record holder.
Gelje began his eight-thousander career as an "Icefall Doctor" on Mount Everest. For five years, he was part of the Sherpa team that annually prepares the ascent route in the dangerous Khumbu Icefall and maintains it throughout the season.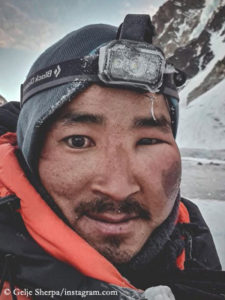 In 2017, Gelje Sherpa led a commercial expedition for the first time: on Kangchenjunga, at that time his team reached an altitude of about 8,000 meters. In 2019, his eight-thousander career really took off when he accompanied Nirmal Purja on his record-breaking chase up eight of the world's 14 highest mountains. Last January, Gelje was also part of the Sherpa team that achieved the first winter ascent of the 8,611-meter-high K2 in Pakistan.
This fall he stood on the eight-thousander Manaslu for the fourth time – but apparently again not on the very highest point. At least that's what Mingma Gyalje Sherpa, who had reached the "real" summit, reported to the portal ExplorersWeb.
Via the south side to Cho You summit?
In Gelje's collection are still missing Cho Oyu and Broad Peak in Pakistan. On Instagram, the father of two announces his intention to scale Cho Oyu from the rarely climbed Nepalese south side of the mountain. The technically easier route from Tibet had recently been permitted by the Chinese authorities only rarely, since the beginning of the Corona pandemic not at all.