Wednesday was a successful summit day on the eight-thousander Nanga Parbat. Several groups that had formed a large group during their summit push reached the highest point at 8,125 meters. The data from their GPS trackers confirm the summit successes of the Spaniard Sergi Mingote and the mountaineer Stefi Troguet from Andorra.
Sergi Mingote scaled Nanga Parbat without bottled oxygen – after Lhotse in spring it was his second eight-thousander this year he climbed without breathing mask. "Happy!!!", Sergi let us know about his emotional state via Facebook. Last spring, the 48-year-old had originally wanted to climb Mount Everest after Lhotse, but after an in the end futile rescue operation for the Bulgarian Ivan Tomov (who died, apparently of an high-altitude cerebral edema) he decided not to do so. In 2018, Mingote had reached the summits of three eight-thousanders without bottled oxygen: K2, Broad Peak and Manaslu. This summer, after having scaled Nanga Parbat now, he has set his sights on Gasherbrum I and Gasherbrum II.
Chasing summits with lipstick
For Estefania ("Stefi") Troguet Nanga Parbat is her first eight-thousander. "Probably the happiest girl from the top of Nanga Parbat, 8,125 m!!," the 26-year-old from Andorra posted on Twitter. We'll have to wait a little longer for her summit picture, where she most probably can be seen with her lips painted red. "Chasing summits with red lipstick", is one of two mottos Stefi has placed on her Twitter profile, "addicted to altitude" the other. In all the pictures she has been publishing on the social networks, you can see Troguet with made-up lips.
Fifth Nanga Parbat success for Ali?
It has not yet been confirmed that Pakistani climber Muhammad Ali Sadpara and Brazilian Moeses Fiamoncini, who climbed with Troguet and Mingote, also reached the highest point. For 43-year-old Ali, it would be the fifth summit success on Nanga Parbat, the third in summer. Once (2017), he climbed the ninth highest mountain on earth in fall – and in 2016, he succeeded, together with the Italian Simone Moro and the Spaniard Alex Txikon, the first winter ascent of this eight-thousander. In May, Ali had scaled Lhotse, Fiamoncini Mount Everest, both with bottled oxygen.
Ski descent via the Kinshofer route
Also at the summit of Nanga Parbat on Wednesday were the ski mountaineers Cala Cimenti from Italy (confirmed by his GPS data) as well as (most probably, but still unconfirmed) Vitaly Lazo and Anton Pugovkin from Russia. The trio wanted to ski down the mountain.
Frenchman Boris Langenstein says he has already done that. Langenstein told the French magazine "Montagnes" that he had reached the summit late Monday afternoon and then started his ski descent 50 meters lower. His team partner Tiphaine Duperier, who was not feeling well, stopped her ascent at 7,800 meters, but then skied down the Kinshofer route together with Langenstein. Only near Camp 3 (6700 meters) they had to descend a hundred meters on the fixed rope to cross an ice band, Langenstein said.
Number seven for Nirmal Purja?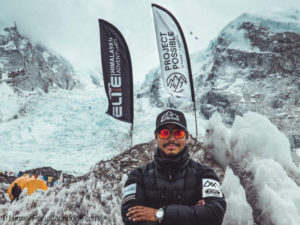 It is still unclear whether Nirmal ("Nims") Purja and his Sherpa team also stood on the summit of Nanga Parbat on Wednesday. But I think it's probable. Nims himself has not yet published anything from Pakistan. But the other mountaineers reported that the Nepalese climbers were part of the summit push.
Purja, a 36-year-old former soldier of the British Gurkha regiment, had stood on the summits of six eight-thousander in just over a month last spring. Then he ran out of money to continue his "14/7 Project Possible": all 14 eight-thousanders in seven months. Apparently enough sponsors have now been found so that Nims can tackle the second phase of his project: to scale the five eight-thousanders of Pakistan by the end of July – with bottled oxygen, on the normal routes.
Update July 5: According to the Pakistani Rao Ahmad, Muhammad Ali "Sadpara", on advice of his doctor, didn't take part in the summit push. Ali once again had problems with one of his toes, on which he had suffered frostbite on Makalu, says Rao. However, the summit successes of Nirmal Purja and his Sherpa team (although Nims himself remains silent), the two Russians Vitaly Lazo and Anton Pugovkin as well as the Brazilian Moeses Fiamoncini have been confirmed.
Update 6 July: Muhammad Ali "Sadpara" himself has now confirmed to me that he was not on the summit of Nanga Parbat on Wednesday.