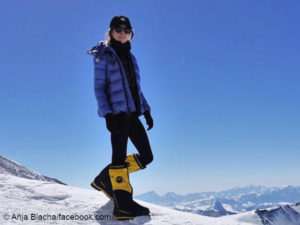 "Anja Blacha is Superwomen," said Wladimir Klitschko three years ago in his video blog "Klitschko's Corner" . Not only the former professional boxing world champion from Ukraine was heavily impressed by the German adventuress. At the turn of 2019/2020, Anja Blacha had hiked 1,381 kilometers on skis – solo and unsupported – from the edge of Antarctica to the South Pole. In 2019, she became the first German woman to reach the summit of K2, the second highest mountain on earth. She did it without bottled oxygen. That same summer, she stood on the neighboring eight-thousander Broad Peak, also without a breathing mask. She has scaled Mount Everest – with supplemental oxygen – from both the Tibetan north side (in 2017) and the Nepalese south side (in 2021). In 2017, she had already completed her collection of the Seven Summits,"the highest mountains on all continents.
On 2 July, Anja now stood – as reported – on the 8,125-meter-high summit of Nanga Parbat in Pakistan – without bottled oxygen and without Sherpa companion, as announced by the Nepalese expedition operator Seven Summit Treks. To speak of a solo ascent, however, would be wrong. The 33-year-old German also used the fixed ropes previously laid on the normal route. After her summit success, I sent Anja five questions. Here are her answers:
Anja, first of all, congratulations on your ascent of Nanga Parbat. How were the conditions on the summit day?
Continue reading

"Anja Blacha after her summit success on Nanga Parbat: "Emotionally moving descent""