"Good news, South Face of Meru South Peak is climbed," Swiss Roger Schäli wrote on Instagram today. "On the second attempt it worked. Big dreams need more than one try!" Schäli, Frenchman Mathieu Maynadier and South Tyrolean Simon Gietl climbed the South Face of the about 6,600-meter-high Meru Peak in India's Garhwal Himalayas late last week – on a new, challenging route with two bivouacs.
In their first attempt in fall 2019, Schäli and Maynadier – then accompanied by Belgian Sean Villanueva O'Driscoll (he succeeded in a solo ascent of the so-called Fitz Traverse in Patagonia in 2021) – had to turn back at 6,400 meters due to bad weather. This time they were luckier, even though it had snowed heavily during the first phase of the expedition.
High avalanche danger, many crevasses, very steep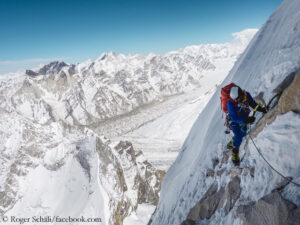 "The abundance of snow had the advantage of allowing us to reach the base of the wall on skis". Schäli wrote. "But the ascent from Camp 1 to Camp 2 was visibly dangerous from the point of view of avalanche danger, and the path this year is a maze of crevasses." After one last exposed bivouac, Schäli, Maynadier and Gietl also mastered the final crux below the ridge. "It was still uncertain if we would find a way under the end block and the very steep terrain," wrote Schäli.
"Finally, after taking a picture, we discovered a large ice tunnel for one of the most original pictures we could imagine. In three spectacular pitches, the route we chose led us over the ridge and, in icy winds, 200 meters up a steep snow-ice slope to the top of the Meru main summit ridge."
That same day, the trio descended back to base camp. A great adventure with a successful outcome lay behind Schäli, Maynadier and Gietl – another example that beyond the mountain tourism industry in the Himalayas there are still an incredible number of playgrounds for real alpinists.