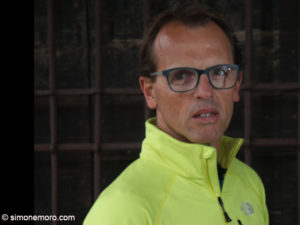 Sometimes he attacks his victims, sometimes he creeps up on them – death has many faces. In January, Italian climber Simone Moro barely managed to get away from him. On Gasherbrum I, the 52-year-old fell 20 meters deep into a crevasse. His partner Tamara Lunger from South Tyrol was able to break the fall with a rope. After two hours Simone crawled back over the edge of the crevasse. Both suffered minor injuries, ended their winter expedition and returned to Italy.
What Moro would experience in his hometown Bergamo in this March, he could not yet guess. Bergamo currently represents the deadly danger from the corona virus worldwide: In the province around the northern Italian city currently between 100 and 120 people die every day of the Covid-19 virus. Simone is in South Tyrol, where he answered my questions.
Simone, the most important question in these days of the corona virus first: How are you?
Continue reading

"Simone Moro: "The coronavirus is like Russian roulette""