The Chinese-Tibetan authorities have closed the Tibetan north side of Mount Everest for this spring season. This I learned from a reliable source. The decision is official, it is said. This had already been indicated in the past weeks.
The Tibetans had advised the expedition teams to travel to the north side of Everest via Kathmandu rather than via the Chinese airport in Chengdu, as is often the case, because of the corona epidemic. The Nepalese authorities declared on Monday that all land crossings to China will remain closed for the time being due to the corona crisis. This would also have made it impossible to travel via the Kerung border crossing.
The expeditions now only have the option of ascending via the Nepalese south side of the mountain. On Tuesday, the so-called "Icefall Doctors", eight Sherpas specialised in their task, set off for Everest Base Camp to prepare the route through the Khumbu Icefall.
How many teams are switching to the south side?
Adrian Ballinger, head of the US operator Alpenglow Expeditions expressed his "agreement with China's decision. It is responsible, and the same one Alpenglow Expeditions was inevitably leaning towards in the past days," Ballinger wrote on Instagram. "Climbing a mountain is not currently worth the transmission risk in the base camps, nor upon returning home." Alpenglow canceled this year's Everest expedition.
The Swiss expedition operator Kobler & Partner announced to switch with their team to the south side. The Austrian operator Furtenbach Adventures had also kept both options open due to the uncertain situation caused by the corona epidemic and will now tackle the highest mountain on earth from the south.
Update 12 March: According to Mingma Gyalje Sherpa, Chinese mountaineers will be allowed to climb Everest from the northern side of Tibet this spring. Only foreign teams were not given permits, writes the head of the Nepalese expedition operator Imagine Nepal on Facebook adding that Yarla Shampo Expedition, the only operator licensed for China, continues to prepare their ascent via the north side.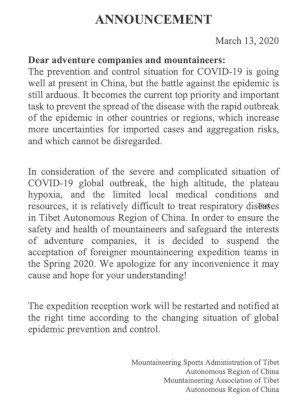 Update 13 March: The closure applies not only to Everest, but to all possible expedition destinations in Tibet (see left).