I just went shopping at a supermarket. I wanted to buy a kilo of flour. There was a sign on the pallet saying that each customer could only take a maximum of four packages. But not a single one was left there. Three checkouts were open, long lines formed in front of them. Most of the customers had filled their shopping trolleys to the top. Panic in Germany in the face of the coronavirus pandemic. As I stood in line at the checkout, I thought of Nepal. Many people there already lack the most necessary things. How will they survive the corona crisis?
"Health is more important"
As reported, the government of Nepal has pulled the rip cord. All permits for expeditions, whether to Mount Everest or other mountains in Nepal, are invalid, and no new ones will be issued this spring. This also applies to trekking trips. In Kathmandu there are several hundred small agencies specializing in trekking tours. The Trekking Agencies's Association of Nepal (TAAN) supports the government's decision despite the foreseeable drastic economic consequences. The government is seriously concerned about the health of the people living in Nepal, writes Sarita Lama, General Secretary of TAAN: "Even though the trekking business is down, but health is more important. We can welcome more trekkers and travelers in the fall season."
"No solution"
Mingma Gyalje Sherpa, head of the operator Imagine Nepal, described to me in vivid words what the government's decision means for the expedition operators and the people around them:
"We have 14 members for Everest and four of them trying both Lhotse and Everest. They are still planning to come if Nepal's government allows to climb. One of my clients has expressed that he has saved up money and holidays for ten years to make the ascent possible this year. He is not sure if he can prepare himself for next year so he has requested all the possible way we can help him to climb this year.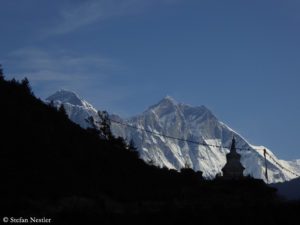 Since WHO has declared it as pandemic and Nepal Government has already put bars on all the spring season climbing for this year, we have no other solution. Most of them have prepared financially, mentally and physically for more than a year to fulfil their dreams. Now they are just a month away and they have this sad news so they are in shock, unhappy and worried.
Actually we are in pain at the moment but it is the best step that the Government can take to keep the people in sound health. The world is suffering from this epidemic and it's getting beyond the control of very developed countries like EU members, USA, England. If developed countries go through shortage of medical kits and (protectic) masks then we can imagine what the situation is like in our country. So we are in great loss by this decision but we do support this decision.
Our guides, Sherpas and kitchen staff are jobless in this crucial season where they can earn the most among all other seasons. Hoteliers are hopeless and are in trauma. Most of the hotels in Kathmandu are rented house and the hoteliers risk staff's salaries, water and electric bill, rent, bank loans in a hope to earn some profit. If the season goes like this then they have no option remained except shutting down their business which will create unemployment for many more.
The planes stay or the ground, the restaurants in the tourist areas are empty, so all the tourism related businesses are simply suffering. A simple example: the owner of a hotel in Gorakshep (the last village near Everest base camp) has already bought enough food for the whole season. This food with limited date won't be able to be used after six or seven months. The market price of the food, cargo to Lukla and seven days porters to Gorekshep is all a total waste.
This crisis will pull somehow developed Nepal's tourism industry back and the recovery will take time. But for now staying safe and planning and implementation of the plans for retention of tourism industry is only the option remained with us."