Despite the restrictions resulting from the corona pandemic, Mount Everest will apparently not remain completely deserted this spring. There is growing evidence that a Chinese expedition will approach the highest mountain on earth from the Tibetan north side. According to the Kathmandu-based newspaper "The Himalayan Times", at least 26 mountaineers from China, including six women, will attempt to climb Everest.
60 years ago: first ascent via the north side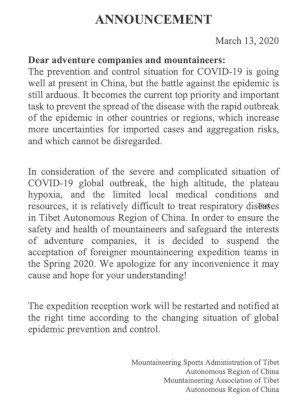 The Chinese-Tibetan authorities announced last week that they would not issue permits for the north side of Mount Everest and other expedition destinations in Tibet this spring because of the coronavirus crisis – "for foreigner mountaineering expedition teams", as it was explicitly stated.
Whether domestic teams would be permitted thus remained open. And there is another reason why a Chinese expedition could come about: This year, 25 May marks the 60th anniversary of the day on which Everest was first climbed via the Northeast Ridge by three Chinese climbers. A successful anniversary expedition could certainly be exploited by China's state propaganda.
Two birds with one stone
Also for the Nepalese south side of the mountain no permits for expeditions will be issued this spring due to the corona crisis. However, voices are already being raised in the Himalayan state to follow China's example and let local mountaineers climb Mount Everest. Kami Rita Sherpa, who holds the Everest record with 24 summit successes, suggested using the canceled season to clean up the mountain. In this way one kills two birds with one stone, the 50-year-old told the "Kathmandu Post" newspaper: "It's a golden opportunity for the government. The Everest cleanup campaign can employ at least 25 percent, or 3,000 climbing guides and porters, who have now lost their jobs."
And who pays for it?
They could not only bring rubbish from the mountain, but also the corpses of numerous mountaineers which could not be brought down until now. Kami Rita estimates the cost of such an campaign for three months at around one billion Nepalese rupees, the equivalent of almost 7.8 million euros. The money would have to be raised either by the government or by companies, "as part of their corporate social responsibility", the Sherpa said. A pious hope in view of the foreseeable economic crisis in times of the corona virus.