This Sunday is International Women's Day. Also in Nepal. Nepalese women still have a hard time in high altitude mountaineering. The Nepalese Lhakpa Sherpa, who was born in Nepal and lives in the USA, is listed in the Guinness Book of Records as the most successful woman on Mount Everest with nine summit successes. This spring she plans to reach the summit for the tenth time, from the Nepalese south side of the mountain. But the 46-year-old also has difficulties finding sponsors. To be able to finance her project, Lhakpa has started a crowdfunding campaign.
Since Pasang Lhamu Sherpa was the first Nepalese woman to reach the summit of Everest on 22 April 1993 (she died on the descent at the 8,749-meter-high South Summit), 66 ascents have been made by women from Nepal – half of them in the last four years, according to the mountain chronicle Himalayan Database.
First woman from Nepal on Makalu
The 29-year-old Dawa Yangzum Sherpa is currently one of the most famous female mountaineers in the Himalayan state. In 2012, she scaled Everest from the Tibetan north side. In 2014, she reached the summit of K2 with her compatriots Maya Sherpa and Pasang Lhamu Sherpa Akita. They were the first Nepalese women on the second highest mountain on earth. A few days ago, they presented the children's book "Daring to Dream" in Nepal, which tells the story of their K2 success.
In 2019, Dawa Yangzum climbed on Everest to an altitude of 8,450 meters as a mountain guide of a US science expedition, during which, among other things, weather measuring stations were installed along the route. Six days later, she was the first woman from Nepal to reach the summit of the eight-thousander Makalu.
She lives in Boulder in the USA and works for the expedition operator Alpine Ascents International.
Dawa Yangzum, in recent years the number of Nepalese women climbers who have attempted Mount Everest has increased. Is this already a sign that women are playing an increasingly important role in Nepalese mountaineering?
It really seems as if the number of Nepalese female mountaineers on Everest is increasing a lot. But after that most of them disappear again. It seems as if they only do it for an entry in their resume. For other mountains there is not enough left anymore.
In your experience, are women now treated as equal in the expedition scene?
I feel well respected and equal, maybe also because I am a Sherpa women and work in another country. In Nepal, as a woman you are not treated so well and equally everytime. Sometimes I found it little hard between so many males.
What are the main obstacles for women in Nepal to engage in mountain sports?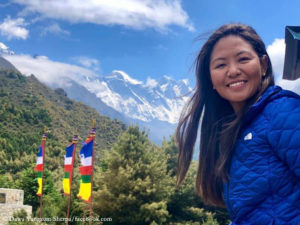 I think that if women in Nepal want to get into sports, they need the support of their family above all. We live in communities and a society where many people judge us what we are doing. Most of the females can't go or do because they are thinking of this community or society.
In January you led a climbing course for young Nepalese women in the Khumbu. Did you feel something like a new spirit of optimism among the participants?
I always thought mentorning them would be essentially overcoming just one hurdle, and that is to teach the technical aspects of climbing and guiding. I thought that would be the biggest hurdle, but soon I realized that was the easiest one to overcome. The bigger hurdles were psychological, emotional and cultural.
After having spent two weeks together, I was happy to see that they had not only become technically safe in the mountains, but – more important – had also developed psychologically and emotionally. They were no longer shy and timid little girls, but had in fact become young and confident women who seemed ready to pursue different adventures in life. This emotional and psychological transformation was not something I had foreseen, and now I realize, this is the most important transition. I feel, this is the most worthwhile outcome of my efforts, and I truly felt blessed to have been given this opportunity.
What will be your next project?
My next project is guiding on Everest for the third time – and I love doing this.