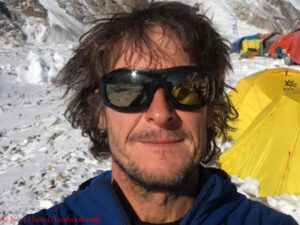 Joy and sorrow can be very close together on the eight-thousanders. On Monday, the news was still spreading that Noel Hanna had become the first climber from the Irish island to scale the 8,091-meter-high Annapurna I. Today, a representative of Nepal's Ministry of Tourism announced that the 56-year-old Northern Irishman had been found dead in Camp 4 at around 7,100 meters. According to reports, Hanna had climbed without bottled oxygen during his ascent.
Ten times on Mount Everest
Hanna was an experienced mountain guide. He summited Mount Everest ten times – with bottled oxygen: seven times via the Tibetan north side of the mountain and three times via the Nepalese south side. In 2009 and 2016, his wife Lynne accompanied him. The two were the first married couple to reach the highest peak on earth from both the north and south sides. Hanna and Lynne also climbed the eight-thousander Manaslu together – without breathing mask – in 2019, reaching not the "True Summit" but a lower elevation on the summit ridge as hundreds of others have done in past decades.
In 2017, together with Nepalese Naga Dorje Sherpa, Pemba Tshering Sherpa and Samden Bhote, Hanna made the first ascent of the 6,942-meter-high Burke Khang in the Khumbu, not far from Mount Everest. In 2018, he also scaled K2, the second highest mountain on earth.
Rescued by helicopter
The Indian Baljeet Kaur was lucky in misfortune on Annapurna I. After she had reached the summit on Monday – apparently also without bottled oxygen – she was initially reported missing. Today, it was possible to locate the 27-year-old above Camp 4 and bring her down from the mountain by helicopter. According to media reports, she suffered frostbite on her legs and was flown on to Kathmandu for medical treatment. In 2022, Baljeet had scaled six eight-thousanders with Sherpa support: Annapurna I, Kangchenjunga, Everest, Lhotse and Makalu with bottled oxygen as well as Manaslu without breathing mask, in 2021 she had stood (with bottled oxygen) on the summit of Dhaulagiri.
According to the Himalayan Times newspaper, four other climbers who reached the summit on Monday were rescued from the mountain by helicopter: Nepalese Suman Panday, Indian Arjun Vajpai as well as Naila Kiani and Shehroze Kashif from Pakistan.
Still missing is Indian climber Anurag Maloo, who had turned around at Camp 4. It is believed that the 34-year-old may have fallen into a crevasse during his descent. The chance of finding him alive is decreasing with each passing minute. The search is expected to continue on Tuesday. Maloo's family and friends launched a petition appealing to the governments of Nepal and India not to give up on the climber yet and to intensify the search. At the same time, they asked for donations to fund the rescue operation.