"Were you on the summit?" Actually, this question should be easy to answer. After all, common sense whispers that the summit is where you can't get higher. But there are vagaries of nature. Not every mountain is shaped like a pyramid, with a clear peak. In seven years of research, a team led by Eberhard Jurgalski, the German chronicler of high-altitude mountaineering, has investigated three of the 14 eight-thousanders which, due to topographical conditions, have repeatedly been misjudged by climbers: Annapurna, Dhaulagiri and Manaslu. "It is clear now after all this research and communication that many mountaineers, including some well-known ones, have definitely failed to reach the very highest points on one or more of these mountains, " writes Eberhard on his webside 8000ers.com.
Take Annapurna, for example: Based on high-resolution satellite images, the German Aerospace Center (DLR) made available to Jurgalski and Co. a profile of the Annapurna summit ridge, which is more than 300 meters long, with centimeter-accurate data on the elevations. There are some of them: besides the "real" 8,091-meter-high summit more than a handful of cornices, which could be and partly in fact were taken for the summit. One of these points is only a few centimeters lower than the summit, while the difference on another is almost 27 meters.
"Most really thought they were up."
"We have worked through about half of the mountaineers on the list of those who climbed all 14 eight-thousanders," Eberhard Jurgalski tells me. "I'm assuming that less than a handful have really stood on all the highest points." The 66-year-old pleads for the creation of a so-called "elite list" for these mountaineers. In addition, Jurgalski and his colleagues propose, as a consequence of their research, to define a "tolerance zone" with a few metres below and next to the highest point within which an eight-thousander can be regarded as scaled. "It's about accuracy, not putting anyone in the dock," says Eberhard. "This does not diminish their performance. Most climbers really thought they were on top. That wasn't cheating."
Cornice mistaken for Manaslu summit
Ralf Dujmovits, the first and so far only German on all eight-thousanders, has – in contrast to other top climbers – worked together with Jurgalski from the outset, arranged contact with DLR and made available to the chronicler his photos from the summit region of the three eight-thousanders examined. The result: In 1990, he reached the summit of Dhaulagiri. In 2004, on Annapurna, he was very close to the highest point – "within the tolerance zone", as Ralf tells me. In 2007 on Manaslu (I accompanied the expedition as a reporter in the base camp), he stood on top of a cornice, which according to current knowledge is between three and six meters lower than the summit and on the ridge in the direction of ascent a little further to the front.
"Now we know I wasn't at the summit. I can admit that without any problems," says Ralf. "A strong wind blew that day. I wasn't able to look behind the supposed summit cornice. The sky was full of spindrift. I climbed another three meters further, but I didn't see a higher point." He recognized the spot where Gerlinde Kaltenbrunner and Renzo Corona had stood in 2002, says Dujmovits: "I assumed that it was really the highest point. Maybe I should have taken a closer look at the pictures of the Japanese first ascenders. When I was up there, I thought that the rocks you see in these pictures were completely snowed in."
"Dangerous ridge"
On Dhaulagiri with its likewise unclear topography, the circumstances were different. "At that time I was still a young, very ambitious mountaineer. I just kept climbing on the route of the first ascenders, on and on, alone, without being roped up," says Dujmovits. "Then I reached the summit, but in retrospect I have to say that this was due to my ambition. But there was also a huge amount of coincidence involved: that the weather was good, that it wasn't foggy, that instead there was clear visibility, that I reached the highest point in the end. It was different on Manaslu, I just didn't have that luck."
But how should mountaineers behave if they are not sure where the highest point is, for example on Annapurna? Crossing the entire ridge, as the report describes as the safest, if rather unrealistic, method to rule out an error? "This is unreasonable because the ridge is so dangerous. There follows one cornice after the other," says Ralf. "You arrive exhausted on the ridge at above 8,000 meters. Then at some point you stand on a cornice, look in all directions and think: There are still a few high points back there, but are they really higher? And then you let it be because it would be hara-kiri. The risk must be in reasonable proportion to the result."
Stricter criteria from now on
Dujmovits supports Jurgalski and Co.'s proposal to define tolerance zones for Manaslu, Dhaulagiri and Annapurna around the "real" summits – but only to classify earlier ascents. At that time, much of the information now being there had not yet been available, says Ralf: "But stricter criteria must apply for the future, because we now know exactly where the highest points lie. Any mountaineer preparing for these eight-thousanders can now download the PDFs and obtain information."
Unlike Dujmovits, some top mountaineers have so far shown little willingness to support the chroniclers in their research. "I don't necessarily interpret this as obstruction, but as the fact that they don't want to deal with the topic anymore," says Dujmovits. "The authors researched very carefully and finally brought the truth to light. But some may also find it a dishonorable story." He appeals to work together with Jurgalski and Co. "so that for the future generation of eight-thousander climbers there are clearer pictures that everyone can look at".
No return to Manaslu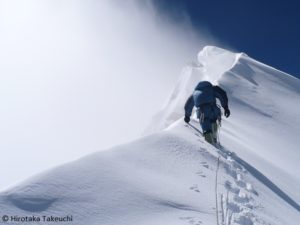 He himself struggled for a while to decide whether he should return to Manaslu as a consequence of the new findings, but in the end he decided against it, says the 57-year-old. Since he would do it without bottled oxygen, the fall season would be out of the question, because then hundreds of summit candidates would be on their way on the 8,163-meter-high mountain, says Ralf: "And in spring? Then you'll arrive up there, and the cornices will possibly be so big again like in 2007, that you really won't be able to cross over. That's not worth the risk I'd have to take – only because I missed six meters to the highest point."
P.S.: I don't know any mountaineer or big media who don't use Eberhard Jurgalski's website 8000ers.com in connection with eight-thousander mountaineering. All the more incomprehensible is the fact that the chronicler continously has to search for sponsors. If you want to support Eberhard's work, just click the link on the upper right of his website.