Success stories continue to pour in from the eight-thousanders in the Karakoram, today especially from Broad Peak. Among those who reached the 8,051-meter-high summit were the collectors of eight-thousanders Kristin Harila, Adriana Brownlee and Grace Tseng. Without minimizing their achievements, I think it's high time to recognize the Nepalese climbers who made their eight-thousander ascents possible.
Kristin Harila: "My Heroes"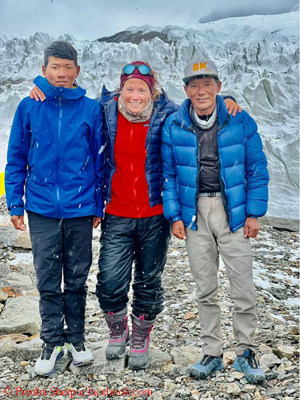 In the case of Norwegian Kristin Harila, who – with bottled oxygen – wants to climb all 14 eight-thousanders in half a year, these are regularly Pasdawa Sherpa and Dawa Ongju Sherpa. For the trio, Broad Peak was eight-thousander number nine in their record-breaking hunt in the footsteps of Nirmal Purja. In this summer season in Pakistan, the three had previously scaled Nanga Parbat and K2.
Kristin never tires of highlighting the role of the two Sherpas, who work for the operator 8K Expeditions. After her success on K2, the 36-year-old wrote on Instagram that Pasdawa now holds the record for the fastest ascent of the five highest mountains on earth and that she is the fastest woman on those five peaks. Regardless of the records, however, "for me what has been most important is the team", Harila wrote, adding that Pasang and Dawa Ongju "are family to me and the strongest sherpas I know".
After her success on Makalu in late May, Kristin had called the two "my heroes": "I could not do this without you." A realistic assessment.
Adriana Brownlee: "You're the best"
It sounds similar for Britain's Adriana Brownlee. The constant in the 21-year-old's eight-thousander successes is Gelje Sherpa, who is regularly part of her Sherpas' team. " Couldn't do ANY of these mountains without my guide, support and coolest best friend ever. Gelje Sherpa, you are the best," Adriana wrote on Instagram in early July after her summit success on Nanga Parbat. "Your strength, determination and immense passion for mountaineering are what keep me going, as well as your infectious humour."
The 29-year-old Gelje mostly works for the operator Seven Summit Treks and is one of the stars among Nepalese mountaineers. In 2021, he was one of the ten Nepalese who succeeded in making the first winter ascent of K2. Last winter, Gelje and a Nepalese team tried in vain to open a new route on the Nepalese side of Cho Oyu. The route should be suitable for commercial teams.
For Brownlee, Broad Peak was, by her own reckoning, the ninth eight-thousander – actually, it was her eighth, since she and Gelje turned back before the "True Summit" of Manaslu last fall, according to Mingma Gyalje Sherpa.
Grace Tseng: Always with Nima Gyalzen
The Sherpa at the side of Tseng Ko-erh, called "Grace" Tseng, is Nima Gyalzen. The head and founder of Dolma Outdoor Expedition has been involved in all of the Taiwanese climbs of eight-thousanders, including this summer – with Ningma Dorje Tamang – of Nanga Parbat, K2 and Broad Peak. On the summits of the latter two eight-thousanders, the 29-year-old Taiwanese stood within a week each without bottled oxygen, according to Dolma – while her two Nepalese companions used breathing masks.
According to Tseng, Broad Peak was her ninth eight-thousander. She does not count Manaslu, as she also did not stand on the "True Summit" in 2019. Unlike Norwegian Harila and British Brownlee, however, the Taiwanese climber rarely mentions her Sherpa companions in her posts on social media. Last winter, she had wanted to be taken up K2 by a team of seven, but the attempt failed.
Al Thani: "Helped me dream bigger"
Another female collector of eight-thousanders has a "personal" Nepalese as her companion on the mountain. Sheikha Asma Al Thani, from Qatar's ruling family, is regularly guided by Nirmal "Nims" Purja – as well as by other employees of his company Elite Expeditions. Last Friday, Purja and Al Thani stood on the summit of K2. It was the sixth eight-thousander (five of them with bottled oxygen) for the 33-year-old celebrity from Qatar. Unlike the aforementioned women, she stood on the truly highest point of Manaslu in fall 2021 – Al Thani did not use a breathing mask for this climb.
Since the Sheikha confided in Nims, the star of the Nepalese mountaineers, things have been going for her. Together they also climbed Ama Dablam in Nepal, Mount Vinson in Antarctica and Denali in Alaska.
Al Thani does not deny her strong supporters. After her summit success on K2, she thanked via Instagram "all the hard working guides at Elite Expeditions who made this possible" as well as Purja, "who helped me dream bigger and achieve it with discipline."
Update 1 August: According to their own account, Adriana Brownlee and Gelje Sherpa have also scaled K2. "Gelje and I were actually going to attempt a summit without O2," Ariana wrote on Instagram. "However, after reaching and sleeping at 8,000m without (supplemental oxygen), the snow In the night just didn't stop and it was then impossible for us to trailblaze without O2."