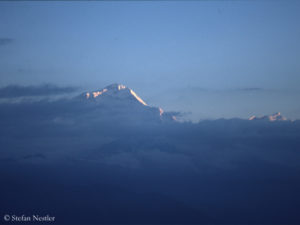 Miracles – like last spring's survival of Indian climber Anurag Maloo in a crevasse on Annapurna – are unfortunately the exception on eight-thousanders. On the 8167-meter Dhaulagiri, not far away, Russian climber Nadya Oleneva died in a fall yesterday. This is reported by the Russian mountaineering portal mountain.ru.
According to this information, Oleneva had set out on Friday with her Russian compatriots Roman Abildaev and Rasim Kashapov for a summit attempt without bottled oxygen. Yesterday, they climbed separately and rope-free from Camp 1 at 6,050 meters towards Camp 2 at 6,880 meters. After Roman and Rasim arrived there shortly after each other, they wondered where Elena was, who had been only a short time behind them. Rasim searched for her in vain, but spotted one of her sticks and a slide down track into the depths. The two immediately requested a helicopter rescue and descended to base camp. The helicopter could not take off until today, Sunday. Oleneva's lifeless body was discovered at an altitude of about 6,100 meters.
Nominated for the Piolet d'Or twice
Oleneva was one of Russia's top female climbers. Only recently she had been nominated with her compatriots Ratmir Mukhametzyanov and Alexander Parfenov for the Piolet d'Or, the "Oscar of Climbers". The trio had opened a new direct route through the steep North Face of the 5,816-meter-high Pik Korolyova in Kyrgyzstan in summer 2022. It was her second Piolet d'Or nomination after 2020, when she had been nominated for the prestigious award for a new route on the 2,590-meter-high Pik Mechta in Siberia.
"I want to say pinch me, I'm climbing an eight-thousander!", Nadya had posted on Facebook at the start of the expedition to Dhaulagiri: "In anticipation of a new height." At that time, she had no idea that the seventh highest mountain on earth would become her last. Nadya Oleneva was 38 years old.