The first big summit wave on Mount Everest is rolling. As expected, several dozen climbers reached the highest point at 8,849 meters today, ascending with bottled oxygen. Among them were Briton Kenton Cool, who has already stood on the roof of the world for the 15th time, and Pakistani Shehroze Kashif, who is only 19 years old – he scaled the eight-thousander Broad Peak in his homeland as a 17-year-old and has been called "Broad Boy" ever since.
According to the Nepalese operator Seven Summit Treks, twelve members of Bahrain's Royal Guard team were also led to the highest point, including Sheikh Mohamed Hamad Mohamed Al Khalifa, a member of the royal family. In the next few days, other groups of commercial operators are expected at the summit, as well as on Lhotse, where a Sherpa team yesterday fixed the ropes up to the highest point.
Some haven't learned anything
The climbers from the team of Austrian operator Furtenbach Adventures have completed their acclimatization and are waiting at base camp for their chance for summiting. "Of course, it is anything but a normal season on Everest," German mountain guide Luis Stitzinger, who is working for Furtenbach this spring, writes to me.
He says the team has so far been spared cases of corona and other diseases: "I think we have our strict hygiene measures to thank for that." Among other things, these include regular corona tests, says Luis: "Not all operators really deal with the issue responsibly. There are also those who encourage people to meet other people and party. Just like in our 'normal' society, there are also people who haven't learned anything."
COVID-19 at base camp
Stitzinger confirms that the pandemic has not – as persistently claimed by the government of Nepal – given Everest Base Camp a wide berth: "Some climbers have already left here, partly to forestall the closure of the airport, out of fear of COVID (of which there are, of course, cases here at base camp, the helicopter pilots have told us that they have already flown some out) or also because of the humanitarian catastrophe in Nepal and India." Highs in new infections have been reported almost regularly in Nepal for days, and the Himalayan nation's health system is no longer able to care for all COVID patients.
"When the various teams arrived at the beginning of the season, the situation was quite different – no COVID crisis in Nepal or India – so surely no one need have a guilty conscience afterwards if they decided to make the trip," Luis finds. At first, everything pointed to a good course of events, says the 52-year-old, "and everyone was happy about it. Until the numbers increased in India, then in Nepal, and finally also arrived at the base camp. Of course, we're thinking about whether it's still possible to justify being here."
Economic constraints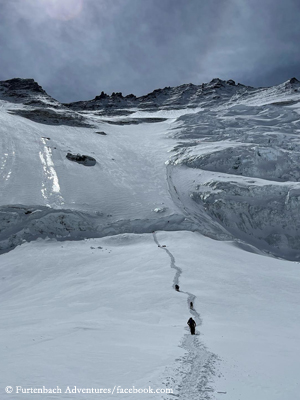 The guide points out that many of the Sherpas now employed on Everest did not have a single day of work last year because of the corona pandemic. Stitzinger says many expedition operators also have their backs against the wall. "A lot of operators have put a lot of money into it and can't back out. If clients were to be successful in claims for damages, many would be threatened with bankruptcy in corona times. That would only be possible in the case of force majeure, for example if the Nepalese government could bring itself to end the season. That's unlikely, however, as it has the interests of the domestic tourism industry at heart."
The dramatic development of the corona situation in Nepal has Luis Stitzinger thinking. "Should we continue now to save at least a little something, or end the season out of compassion for the situation in Nepal?" the climber wonders. "I don't know. As so often in this corona crisis, somehow nothing seems quite right, no matter what you do."
P.S.: The government of Nepal today extended the suspension of international flights until May 31 – except for just two flights a week between Kathmandu and New Delhi.