The sad truth is that microplastic is really everywhere – even on Mount Everest. After microfibers had already been detected in the Arctic snow and in the deep sea in the Mariana Trench, scientists now also found microplastic (MP) in the snow cover of the so-called "Balcony" on Everest, at an altitude of 8,440 meters, about 400 meters below the summit.
And not only there, but also at all the camp sites on the normal route on the south side of the mountain in Nepal, where samples were taken – as well as on Lobuche East, which in recent years has increasingly become the "acclimatization mountain" for Everest aspirants. Not surprisingly, the researchers determined the highest microplastic density in samples from the base camp. After all, there are staying up to 1,000 persons in the spring climbing season. 
Waterproof, but harmful to the environment
In spring 2019, more than 30 scientists from various research fields had gathered at Everest. Now they presented their first results. Never before have snow samples been systematically collected at a higher altitude. The microplastics found on Everest were mainly fibers – up to 3.8 millimeters long. "An important finding in this study is that the MPs are primarily polyester fibers, primarily used (in the Mt. Everest environment) in clothing, rope, flags, and tents," the scientists around Imogen E. Napper from Great Britain informed.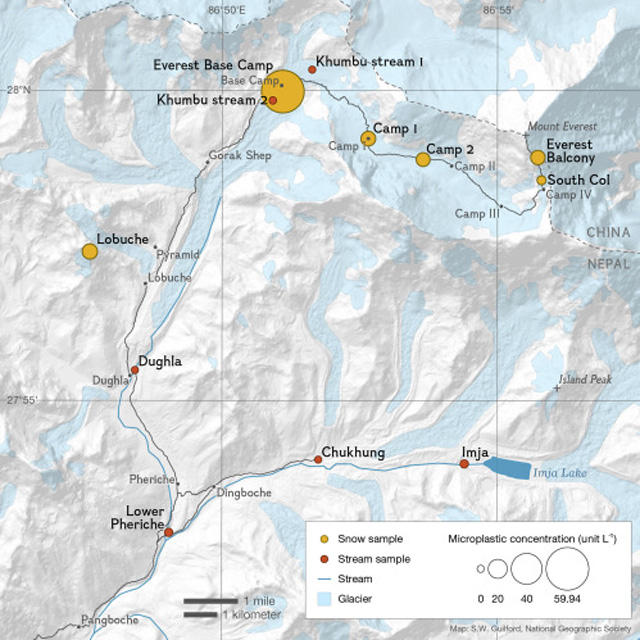 It has been discussed for several years that outdoor textiles and equipment in which plastics are used are robust and waterproof, on the other hand, however, they pollute the environment because tiny plastic particles are released from them. This applies, for example, to fleece products or many windbreakers and hiking socks.
"Currently, environmental stewardship is focused on reducing, reusing, and recycling larger items of waste," the study says. "Although these actions are necessary and important, it is evident that solutions need to expand into deeper technological and novel advances with focus on MPs." Some companies in the outdoor industry have already taken up the fight against microplastics.
Microplastics "ubiquitous"
The scientists who have conducted research on Everest point out that the increasing glacier melt as a result of climate change will probably also increasingly flush microplastics into the rivers of the Khumbu region and thus also into the food cycle of the people living there: "With the increasing number of trekkers and climbers per year, the accumulation of both visible debris and MP is expected to rise, potentially increasing MP contamination throughout the Khumbu region. It is evident that MPs are ubiquitous throughout most environments." The recommendation of the scientists: Continue research and find solutions! The latter also applies to trekkers and climbers: Avoid garbage and take a close look when choosing clothes and equipment!