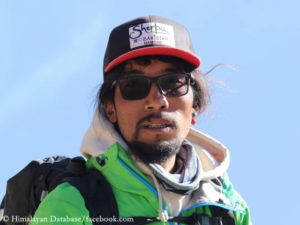 One of Nepal's most promising young climbers is dead. Urken Lendu Sherpa fell to his death while climbing in the Khonar Valley near his home village of Phortse. Urken Lendu would have turned 28 on 16 February. Despite his young age, Urken was considered a prudent climber with great eight-thousander experience: he stood on the summit of Mount Everest four times, scaled Cho Oyu six times, and Manaslu four times.
"Urken was a very passionate, strong, shy, motivated and talented young man," wrote the Khumbu Climbing Center, where the Sherpa had learned to climb and where he was involved afterwards. Phortse is the village in the Khumbu region with the highest density of Mount Everest summiteers: more than 80 of the current inhabitants have already stood on the highest point on earth at 8,849 meters.
Everest ascents from both sides
After his school education, Urken Lendu first went to the nearby Tengboche Monastery as a monk and later also to Darjeeling in northern India. He summited Mount Everest for the first time in 2011, and three more ascents followed – both on the Nepalese south side and the Tibetan north side of the mountain. In 2019, he was part of the Sherpa team of an international Everest science expedition that installed a weather station on the so-called "Balcony" at around 8,400 meters.
First ascent of Luza Peak
Urken Lendu also went ice climbing and skiing. At the end of December, together with Pemba Sharwa Sherpa and Lakpa Gyaljen Sherpa, both also from Phortse, he made the first ascent of the 5,726-meter Luza Peak in the Khumbu – in clean style, via a challenging route, and in winter. It was another exclamation point from Nepal's young generation of climbers. "We dont just climb for living and fulfill someone else's dream," Urken Lendu Sherpa wrote on Instagram in mid-December. "We got it on ourselves."