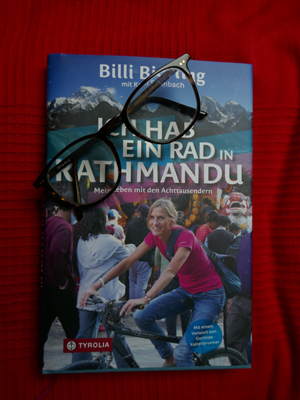 I like people who can't be pigeonholed even if you try to put them in a box. Billi Bierling is such a person. Let's start with nationality. The 55-year-old has a German and a Swiss passport. It's rare to find her in Germany, and really only when she makes a flying visit to her family in the small Bavarian town of Garmisch-Partenkirchen. During the spring and fall mountaineering seasons, she lives in Kathmandu to collect data for the Himalayan Database, the chronicle of Himalayan mountaineering in Nepal, which she manages. Or she climbs the world's highest mountains herself.
Billi usually spends the winter in Bern, where she works as a communications expert for the Swiss Humanitarian Aid Unit. But when the aid organization sends her to one of the world's trouble spots, Billi quickly packs her bags. This raises the next question: Is she now a journalist, a chronicler or a humanitarian ambassador? A little of each – sometimes more, sometimes less, depending on the situation. Billi also stands for versatility in her sporting passions: she is a passionate mountaineer, mountain runner and cyclist. The main thing is to be on the move.
Philanthropist
Her book "Ich hab ein Rad in Kathmandu" (I have a bike in Kathmandu) cannot simply be categorized as a "mountain book" either. Those who expect to read sprawling reports about Billi's own seven eight-thousander successes (Mount Everest, Manaslu twice, Lhotse, Makalu, Cho Oyu and Broad Peak) – three of them without bottled oxygen – because of the book's subtitle "My Life with the Eight-Thousanders" might be disappointed. Billi mentions them, but rather in passing. With the exception of her Everest climb, which she describes in more detail. But even in this chapter, she doesn't lose sight of the people she was traveling with back then, in spring 2009.
For Billi's book is not primarily about herself, but about the many special people she has been privileged to meet so far in her adventurous life. And not just in the mountains, but also in trouble spots such as the Palestinian territories, Afghanistan, Pakistan and Ukraine. If I really had to pick a drawer for Billi, I would choose the one labeled "philantropist".
Tribute to Miss Hawley
Among the special people in Billi's life was the legendary chronicler of Himalayan mountaineering, Elizabeth Hawley, founder of the Himalayan Database. She became Bierling's mentor. The American was also a woman with rough edges and did not allow herself to be pigeonholed: she could be quick-tempered, possessive, almost unashamedly open, but on the other hand she also had a big heart and a fine sense of humor.
Billi's book is also a tribute to Miss Hawley. She brings to life the charismatic chronicler who died in Kathmandu in January 2018 at the age of 94. With her impressive descriptions of the many encounters with Miss Hawley, she also triggered a journey back in time for me: twice – in
2007 and 2016 – I was lucky enough to meet and interview the chronicler in Kathmandu. When I read Billi's accounts of Miss Hawley, I thought more than once: yes, that's exactly how I experienced her back then.
But I also learned a lot of new things while reading. For example, I now know what Billi's artificial hip is called. And finally I no longer have to worry about whether or not Miss Hawley really had a love affair with the first Everest summiteer, Sir Edmund Hillary. However, that's all I'm giving away.
Only reluctantly put out of hand
Instead, I would like to recommend this exciting and very well written book to you. With Karin Steinbach, Billi had an experienced co-author at her side who, like Bierling herself, stands for linguistic quality. I rarely put the book "Ich hab ein Rad in Kathmandu" down, and then reluctantly – only to continue reading with pleasure at the next opportunity. For me, that is also the mark of a good book.
I would like to close with a sentence that is not in Billi's book. When I asked Miss Hawley about her designated successor Bierling during our last meeting in Kathmandu in 2016, the old lady replied, "She is good, she is crazy, she is fast." Billi just doesn't fit into any pigeonhole.
P.S. The book has been published only in German so far. But maybe soon a publisher will be found who will bring it out in English. The book deserves it – and Billi's many friends around the world would certainly be pleased.