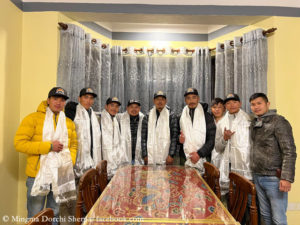 Better safe than sorry? Today another eight-member Nepalese climbing team of the commercial Nepalese expedition operator Pioneer Adventure started from the capital Kathmandu towards Cho Oyu. Its goal is the same as that of the ten-man team led by Gelje Sherpa, which set out on Tuesday: a winter ascent of the 8,188-meter-high mountain via a route on the Nepalese side of the mountain that can also be used by commercial expeditions in the future.
In six hours from Everest to Lhotse
The team is led by Mingma Dorchi Sherpa, who was one of the founders of Pioneer Adventure in 2009. The 34-year-old has stood on the summits of eight-thousanders more than 20 times, five times on Mount Everest alone.
On 27 May 2019, he scaled the highest mountain on earth – with bottled oxygen – and six hours and one minute later he reached the summit of the neighboring eight-thousander Lhotse. That earned him an entry in the Guinness Book of World Records.
The other members in his winter expedition on Cho Oyu are another climber named Mingma Dorchi Sherpa as well as Pemba Ongchu Sherpa, Pasang Tenji Sherpa, Phurbu Kusang Sherpa , Pasang Dorjee Sherpa, Lapkpa Thendug Sherpa and Karma Gyaljen Sherpa.
Two separate teams – with the option to work together
When I asked, "Pioneer Adventure" clarifies that it is a separate team – independent of Gelje's team. "We will operate as different teams," the company writes me, "and if situation arises we might work together during the final phase."
Mingma Dorchi and Co. will have their own base camp and plann to ascend from "from (the village of )Thame side", they said. Gelje Sherpa had announced that he was also planning a route from the Nangpa La side (pass between Nepal and Tibet).
Gale-force winds
Both teams must be prepared for extreme weather conditions. "Since winter 2006 I have never seen in Himalaya or Karakorum such a long period with this hurricane wind strength," wrote veteran Austrian meteorologist Karl, known as "Charly" Gabl to Italian climber Simone Moro, who is waiting for calmer weather in his winter attempt on Manaslu in western Nepal. Cho Oyu is located in the east of the country, not far from Mount Everest – where German climber Jost Kobusch also reported hurricane-like gusts at 6,000 meters during his solo winter attempt.
Update 28 January: Mingma Dorchi Sherpa has informed me that his team consists not of six but of eight climbers plus two people for the base camp kitchen. I have added the missing names of the climbers.