He's a humble knight. Actually, Sir Chris Bonington could stick his nose up. After all, Queen Elizabeth II knighted him in 1996 for his great services to British mountaineering. But Chris does not stick up his nose or carry his title in front of him. Bonington has remained true to himself and has proven his down-to-earth attitude – despite his many successes as a climber (including the first ascents of Ogre (7,285 m) in Pakistan, Kongur (7,649) in China and Changabang (6,864 metres) in India) and as an expedition leader (including the first ascents of the Annapurna South Face in 1970 and the Everest South West Face in 1975).
I wondered how the 85-year-old would be in times of the Corona lockdown. I reached him at his home in Caldbeck in the county of Cumbria in north-west England.
Chris, like to everyone else in these strange days of the corona crisis, the first question is: How are you?
So far I'm absolutely fine. If you are over 70 and you got any other kind of conditions as well, everyone is actually legally put on the total lockdown which suits us. We are in a lovely home in the Lake District for the duration which I suspect is until they manage to find a cure for the desease.
You're 85 years old, so you belong to the corona risk group. Does that make you anxious or even frightened?
I certainly don't want to get the coronavirus. I had a minor heart attack and got three stents. So if I got the virus, it would probably kill me. That would not worry me unduly but it's a particular nasty way to die as well. I also got a lovely wife who is quite a bit younger than I am and it's no way that I want to leave her. I want to live another 15 years at least.
How do you spend your days back home in Cumbria?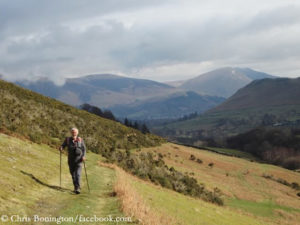 We are very, very lucky that our house actually backs onto the hills. So I can walk straight out my garden. And I've got miles on miles on miles of empty hills to wander over. Every single day we go out walking, so I am keeping very fit. As far as being in lockdown, we are in a lovely place to live. And we have friends that are very helpful. So we are very relaxed and enjoy it.
How do you feel about the current crisis situation in Britain?
I think it's interesting. In a way the coronavirus is a kind of nature's wake-up call to us, to Homo sapiens. We have been messing around, we've been messing with nature and everything for too long. And it's quite extraordinary, isn't it, that the coronavirus has actually just about paralyzed the world. And I think what we got to do is learn something from it. When a vaccine will be found, the corona virus will be gone. What won't be gone is global warming. Unless we do something about global warming – and this is something that the whole world must do – that is a catastrophe. Not to my generation, not even perhaps to your generation but certainly to our children and grandchildren.
So that is the thing that I hope: that this corona virus will actually make people have a serious look at values. In Britain the care workers are some of the most poorly paid people. They should be valued and paid much more and given more respect. Therefore our society really does need to learn from this crisis, actually the society needs to change what it does.
You are a legendary mountaineer and expedition leader, having been to the Himalayas and Karakoram many times. Are your thoughts in the Corona crisis now with the people there?
My thoughts are with all poor people in the developing world, for example also in Africa or in India. Their situation is appalling. My feeling is certainly for the people in Nepal but in fact for all people throughout the world who are suffering hard from the crisis.
In recent years there has been much discussion about the excesses of commercial mountaineering on Everest and the other eight-thousanders. In your opinion, could the enforced break also offer a chance to find a new ethic of climbing or to return to the old one?
What's happening on Everest? I mean, commercial expeditions on Everest have absolutely nothing to do with climbing whatsoever. If you look at extreme climbing, the people who are the head of our sport, who are doing quite extraordinary things, and they are pushing the limits further and further in small, light-weight or solo climbs on 8000-meter peaks, 6000-meter peaks and so on, actually the way climbing is going I think is very healthy.
Thank goodness I managed to climb Everest finally in 1985, which was the last year when the Nepalese government only allowed one expedition on the mountain at a time. We were (like the commercial teams now) also climbing via the South Col but it was a lovely expedition with some Norwegian friends of mine.
Now the commercial expeditions actually do give a basically important economic kind of contribution to the Sherpa community and the people who live around Everest. In the end of all this, you still get people wanting to climb Everest by the South Col route, on the fixed ropes, with the Sherpas. Good luck to them! It's not climbing, but if they want to go there, make them happy! I think it could be done a lot better. The Sherpa guides could be given a better kind of status.
Due to the corona crisis we now have plenty of time to remember our mountain adventures. Two of your extraordinary expeditions are celebrating big birthdays this year. Let's start with the first ascent of the almost eight-thousander Annapurna II in May 1960. What does this adventure mean to you today, 60 years later?
It still remains a huge amount. It was the first time that I had ever been in the Himalayas. Annapurna II sounds like a subsidiary peak of Annapurna I. But it`s more than ten miles away and a beautiful mountain. I was on a small army expedition with members of British and Indian services. It was a challenging mountain and a challenging climb as well, very committing. To be able to climb it was quite extraordinary.
But even there the thing I remember most vividly about that expedition was not about climbing the mountain or even the moment I got to the top. It was after the expedition. We were probably the first Europeans ever to do the Annapurna Circuit. The most of the team crossed Thorong La. I with just one Sherpa wanted to cross by the Tilicho pass because I read about Maurice Herzog's adventures when he was looking for Annapurna ten years earlier (the Frenchman was the first to cross the pass and later succeeded with Louis Lachenal the first ascent of Annapurna I). So we crossed Tilicho pass and to me that was exploration and that's one of the great memories in my life.
Ten years later, in May 1970, Don Whillan and Dougal Haston first climbed the south face of Annapurna during an expedition led by you. It was the most difficult route on an eight-thousander at that time. How do you classify this expedition 50 years ago?
We chose a tactic that you could barely imagine back in 1970: climbing a face the size of the South Face of Annapurna in Alpine style. It was a fascinating expedition, I learned a huge amount about it. We worked well as a team, it was absolute touch-and-go in getting to the top and an extraordinary push right in the end by Don Whillans and Dougal Haston and they made it and climbed to the summit.
These big expeditions had an appeal in the sense that you did have to work as a team. For me it was the first expedition I was the leader of, so I learned a lot of that process. It was the last really big expeditions I led. All the other ones I led have been very smaller expeditions. They got smaller and smaller, actually on lower peaks.
Towards the end of the Annapurna expedition Ian Clough was killed by a falling serac. Many of your friends have died in the mountains. A few days ago, another friend passed away, the legendary Joe Brown, albeit at an advanced age and not in the mountains. Do you often think about death?
Forty, fifty years ago I lost friends on almost every single one of my expeditions. It's sad if you lose a friend. But in a way, if you climb to the absolute limit you have to accept that it is a very, very dangerous game. And if you go on doing it enough and many times you are exposing yourself that risk many times to a degree. I had ten times when I were very, very lucky to survive a fall or whatever happened to me. I stayed alive – as has my good friend Doug Scott (with whom among others he achieved the first ascent of the Ogre in 1977).
Ian Clough was one of the very first I lost and one of my dearest friends. We made the first ascent of the Central Pillar of Frêney on Mont Blanc together in 1961 and other climbs as well. But that is something I think you just got to accept as something that is part of the game to play.
And now, dear friends are also beginning to die of natural illnesses. Joe (Brown) was nearly 90, he was a wonderful person, he had a wonderful life. At his death you can celebrate a fantastic life that he has managed to lead and the huge contribution he has made to the society in which we live.
Five years ago you told me: "I'm not afraid of death, but I love life." Has that changed?
It's absolutely the same now. I have known personal tragedies too. I lost my first son in an accident. That is something you never get over. But I was very fortunate that we have had two boys since then, they are grown-up and parents themselves. I lost my wife Wendy after more than fifty years. It was a wonderful marriage in deep love. Then I had the huge fortune to find love again with Loreto who was the wife of a true friend of mine (Ian McNaught-Davis, who was one of the first ascenders of the 7276-meter-high Muztagh Tower in the Karakoram in 1956) who tragically lost his life by cancer. So we came together and I found a wonderful love again. We are still doing a lot. If I provide that I keep myself physically and mentally fit which so far I managed to do, I want to live as long as I can. That would be great. I love life and I love living.