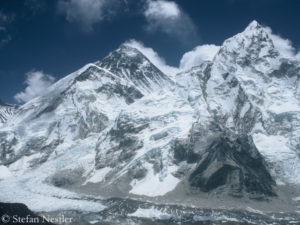 Some pictures say more than a thousand words. Like that shot of Nepalese mountaineer Nirmal Purja from the crowded summit ridge of Mount Everest, which has been making headlines worldwide since the 36-year-old published the picture last Wednesday in the social media (see below). More than 300 people reached the highest point on earth on that day, among them Nirmal, who this spring scaled six eight-thousanders within four weeks as part of his project "Mission Possible" (all 14 eight-thousanders in seven months) – with bottled oxygen, via the normal routes.      
Nirmal's picture might even have opened the eyes of people who have no idea of mountaineering to the fact that such traffic jams in the death zone must simply be life-threatening. Today, two more deaths have been reported from Everest: On Friday a 56-year-old Irishman died on the Tibetan north side of the mountain, on Saturday a 44-year-old Briton on the Nepalese south side, both obviously of high altitude sickness. Ten people have already died this season on the world's highest mountain.
Bad weather, too many people
The German professional climber David Göttler had – as reported – tried on Thursday to reach the summit of Everest from the south without bottled oxygen. Below the South Summit, the 40-year-old turned around, on the one hand because the weather was getting worse, on the other hand because a lot of people came down from above and he feared traffic jams like on Wednesday.  David left Everest Base Camp today. Beforehand he answered my questions.
David, you were on Everest without bottled oxygen at 8,650 meters, which is higher than the second highest mountain on earth, K2. How does that sound in your ears?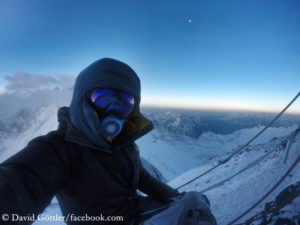 That sounds pretty good. I'm really happy with what I've done here and in what style. I had no backup, no emergency oxygen or anything like that. I carried everything myself, from the tent to the stove.
You still needed 200 meters of altitude to reach your goal. What was it like for you to turn around so close to your goal?
Turning around was not difficult. Before that, I had thought carefully about what could happen. And when the combination of bad weather, a lot of traffic and me not as fresh as a daisy anymore occured, I knew that the risk would be too high. Ueli Steck once said: "Don't epic! I took that to heart. I knew that if I went on I would be incredibly dependent on how all the other people up here move (or don't move). And I couldn't control that fact. When you're alone, you can always say, "Now I'm going down or up." And this freedom is essential to survive there.
Your tactic of starting with a time delay was consistent. Why didn't it work in the end?
Because the weather got worse at the crucial moment. Maybe I should have set off earlier that day. I don't know.
After your current experience, is it in your opinion possible at all with a reasonable risk to ascend without breathing mask from the Nepalese south side in spring season (with hundreds of summit candidates)?
Yes, I think it is possible. You simply have to be lucky and catch a year with a long good weather window. There is one thing to be pointed out: Also every summit aspirant who climbs without bottled oxygen benefits from the whole infrastructure.
You put a lot of training, time and money into your Everest project. With what feeling do you leave the highest mountain on earth?
As I said, I'm happy with what I've done here. I have remained true to my style. Of course, I would have been happy if I had reached the summit. But I don't feel like a victim of the masses here! I knew what to expect. Why do people who have come here get upset about the many people? They too should have known what they were getting into. Of course, I wish there was a solution to the problem that there are too many people here. But I think that pretending to be surprised is gimmickry. Especially as a professional. We are the ones who keep telling stories and who live from how great these mountains are!