On Mount Everest, the first two deaths of the spring season are to be mourned. Today an Indian mountaineer was found dead in his tent at the South Col at 7,900 meters, apparently he had died of high altitude sickness during the night. He had reached the 8,850-meter-high summit on Thursday. Meanwhile the search for a 39-year-old Irishman, who has been missing since yesterday, was stopped. During the descent from the highest point he had slipped and fallen from an altitude of about 8,300 meters into depth. There is no hope any more to find him alive. The wind in the summit area has refreshed and makes a further search impossible for the time being.
During the first good weather window of the season, more than 100 climbers reached the summit of Everest, obviously all of them used bottled oxygen. Last year, according to the mountaineering chronicle "Himalayan Database", among 802 climbers standing on the roof of the world, only one was successful without breathing mask: 32-year-old Sonam Finju Sherpa.
Also this spring only very, very few climbers tackle the mountain without bottled oxygen. One of them is – as reported – the German professional mountaineer David Göttler. The 40-year-old has completed his acclimatization and is now waiting in Everest Base Camp for a favourable time for his summit attempt without breathing mask.
David, there are aerial photos circulating from Everest Base Camp. It doesn't look like a camp, but like a tent city. How is it to live there?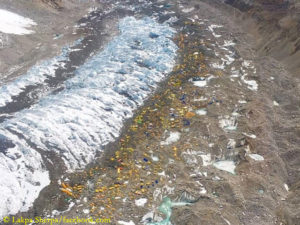 This is a good place to live. I have to say, it is cleaner than many other base camps! And compared to 2012 or 2009, it feels exactly the same to me in terms of the number of people here.
Do you feel exotic among hundreds of mountaineers who almost all want to climb Everest with bottled oxygen?
A little bit.
How do people react when you tell them that you want to climb without breathing mask?
People react differently. Some with amazement, some with awe, some with incomprehension.
You were already twice above 7,000 meters, once just below the South Col, once near Camp 3 on the Lhotse flank. How did your body react?
The first time it felt tough, but it was okay. The second time it was good, I climbed up and down from Base Camp to Camp 3 and back in one day.
The first good weather window has closed, more than 100 summiters have been counted so far. That means the majority is still waiting. What's your plan to avoid the crowds – a must, since you have to climb fast without bottled oxygen?
It's funny, because until now I was almost always alone on the route. Sometimes I asked myself: Where are they all? I just try to walk at different times of the day – or staggered: When everyone went from Camp 3 to 4, I was on my way from Camp 2 to 3. On a summit day this becomes naturally difficult. I simply hope that as many people as possible will have finished their expedition relatively late in the season and that I will be lucky not to have to wait too long at the key points. We will see.
P.S. There were more deaths reported also from the eight-thousander Makalu. An Indian mountaineer was found dead in his tent, another Indian, who reached the 8485-meter-high summit on Thursday, is missing.
Update 18 May: 35-year-old Bulgarian Ivan Tomov, who had scaled the 8000er Lhotse without bottled oxygen on Thursday, died one day later below Camp 4 of HACE. R.I.P.