One of the most spectacular climbs this year probably ended in tragedy. Russian climber Dmitry Golovchenko did not return from the 7,932-meter-high Gasherbrum IV in the Karakoram in Pakistan. Golevchenko collapsed, mountain.ru reports. His rope partner Sergey Nilov returned alone to the base camp, it said adding that Nilov was severely weakened and had suffered frostbite.
What exactly happened to Golovchenko is still unclear. Apparently, however, he did not survive.
19 days on the mountain
The two Russians had set out from Gasherbrum base camp on 18 August to climb the almost-eight-thousander Gasherbrum IV via the extremely demanding, as yet unclimbed Southeast Ridge – in alpine style: without bottled oxygen, without the support of high altitude porters, without fixed ropes and fixed high camps. Three days later, they had begun to climb the ridge. Bad weather with wind and snowfall had slowed them down at times. But Dmitry and Sergey had not given up.
Contact broke off five days ago
"The ridge flatted, we could even climb simultaneously. Saw the headwall (the last part of the wall to the summit)," they had let know by short message via satellite on 29 August, according to Italian alpine journalist Federico Bernardi. A day later, they sent another message: "All in norm, stay for night." The position information corresponded to an altitude of about 7,600 meters. After that, contact broke off.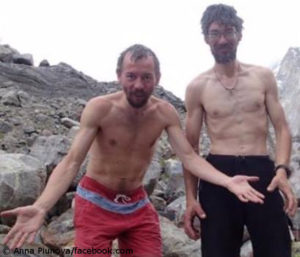 Nilov and Golovchenko are among the best climbers in the world. In 2012 and 2016, they were awarded the Piolet d'Or, the "mountaineering Oscars," for pioneering new routes – on the 7,273-meter-high Muztagh Tower in the Karakoram and on the 6,904-meter-high Thalay Sagar in the Indian Himalayas. In 2019, they had survived an 18-day odyssey on the East Face of the 7,710-meter-high Jannu.
Update 6 September : Nilov was flown to the hospital in Skardu with third-degree frostbite. The search for Golovchenko was called off for the time being due to bad weather. According to new information, he is said to have fallen.