The route through the Khumbu Icefall secured by the Icefall Doctors, a highly specialized Sherpa team, has been officially closed since yesterday, Sunday. This means that the 2022 spring season on Mount Everest is history.
It brought some 700 ascents to the highest point on earth, about 650 on the Nepalese south side of the mountain and before that 50 on the Tibetan north side, which once again remained closed to foreigners. With very few exceptions – one of them the German climber David Göttler – the mountaineers used bottled oxygen. By now we have become as accustomed to this as we have to the lurid headlines: "First … on Everest" or "New record on Everest". In other respects it was a memorable season.
Stable good weather as seldom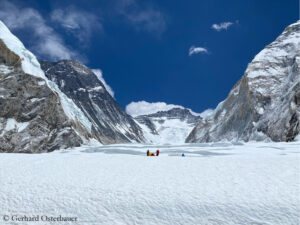 First of all in terms of weather: the good weather window was record-breaking, climate change sends its regards. Since the first major summit wave on the south side of the mountain on 11 May, there have been few days when no summit success was reported. There was little or no wind, there were hardly any snow showers, there were relatively warm temperatures. The reason for this was the mega-high pressure area that lay consistently over India and led to a heat wave there with temperatures up to almost 50 degrees Celsius. The expeditions on Everest benefited from this: the otherwise dreaded jet stream with its high-altitude storms was absent this time for more than two weeks.
Trend toward second Sherpa
No wonder that the success rate of the commercial teams this spring was significantly higher than in the 2021 COVID-19 Everest season, which had much shorter windows of good weather. Nepal's Ministry of Tourism had issued 325 climbing permits to foreign climbers. About 240 of them reached the summit, estimates U.S. blogger Alan Arnette, who keeps track of commercial Everest expeditions like no other.
Alan counted about 400 Everest summit successes by Climbing Sherpas. This means that while we used to assume that a client usually climbed with bottled oxygen and one personal Sherpa, the trend is now toward second or third Sherpa. More and more frequently, Sherpas now reach the summit twice in a season.
Double and triple climbs
As a result, record holder Kami Rita Sherpa – the 52-year-old reached the summit for the 26th time on 7 May as head of the 11-member rope-fixing Sherpa team – feels the breath of his (younger) pursuers in the record books breathing. Both 45-year-old Pasang Dawa Sherpa and 40-year-old Ngima Nuru Sherpa summited Everest with clients twice this season. For Pasang Dawa it was Everest ascents number 24 and 25, for Ngima Nuru successes number 23 and 24.
On the 8,485-meter-high Makalu, located not far from Everest, Lakpa Sherpa even achieved three summit successes within 16 days this season, according to his employer Seven Summit Treks. The need to be helped up the mountain by Sherpas seems to be increasing rather than decreasing.
More bottled oxygen and heli-doping
Commercial mountaineering is leaning toward more and more infrastructure, meaning not only even more Sherpa support, but also even more bottled oxygen – and even more helicopters. They are increasingly used to fly to lower altitudes during the acclimatization phase, sometimes even all the way back to Kathmandu to recover in "thicker" air at the hotel.
And also the transport of equipment to Camp 1 or 2 on Everest is now often done by helicopter – apparently with the tacit agreement of the Nepalese authorities. Until now, only rescue flights were allowed on the flanks of Nepal's highest mountains. My inquiry to the Nepalese aviation authority CAAN, whether this rule has changed, remained unanswered.