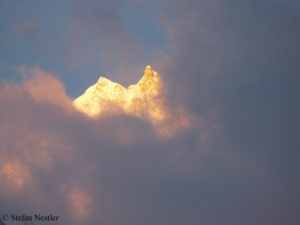 2020 threatens to become a black year for expedition and trekking operators in Nepal. First they lost the entire spring season because of the corona lockdown, now the same threatens to happen in fall. Just a few days ago, the first operators like Imagine Nepal had announced eight-thousander expeditions for early September. Mingma Gyalje Sherpa's company wanted to lead climbers to the summits of Manaslu and Dhaulagiri. "We were planning to run the expeditions and booking was quite good," Mingma replied to my question as to whether there were enough interested climbers for the expeditions.
According to Mingma, the Ministry of Tourism first said that a quarantine for foreign mountaineers was not necessary if they could prove a negative coronavirus test. "But now there is a change," writes the 33-year-old: "All tourists must stay 14 days in quarantine which means they will lose 28 days staying in quarantine while coming and going." Thus, Mingma frustratedly says, "it is likely that our autumn season will end the same way (as the spring season): with no climbing and trekking."
Reparing trails and collecting garbage
Recently there had been some encouraging signs for the tourism industry. A representative of the Ministry of Tourism had announced that flights to and in Nepal would be allowed again from the beginning of August under corona safety conditions. In addition, the government had resumed processing visa applications – initially, however, only to extend visas of foreigners living in Nepal.
The Nepal Mountaineering Association (NMA) announced that the government, on NMA's initiative, would start an aid programme from the second week in July to bring mountain guides, Climbing Sherpas and porters back into work. According to the NMA, initially 200 to 300 of them are to repair paths and collect garbage in various mountain regions, "first on the lower mountains, then on the higher ones", as it was said.
Quarantine "if required"
The Ministry of Tourism had also issued an "Operating Guideline with Health Protocol for Tourism Sector" for the time after the corona lockdown. Expedition and trekking teams are not allowed to be larger than 15 members. Hotel rooms must be thoroughly cleaned and disinfected after the guests' check-out and must not be occupied again for at least 48 hours. The state of health of foreign guests is to be checked-up "followed by provision of 14 days quarantine (if required)", as it is said. There is no mention in the guideline of a general quarantine as announced to the expedition operators.  The Ministry should make clear what it wants.