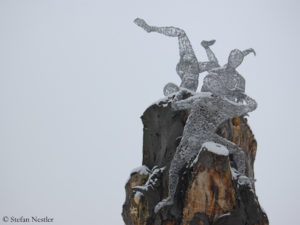 "If a committee had been set up to create the world, it wouldn't be ready today." This realization, attributed to the Irish writer and politician George Bernhard Shaw (1856-1950), I had to think of when I read today that Nepal's Prime Minister Khadga Prasad Sharma Oli has ordered the formation of an Everest committee of five. The members are to investigate the recent deaths on Mount Everest and review the existing guidelines for climbing the highest mountain on earth, Department of Tourism Director General Dandu Raj Sharma was quoted.
Committees again and again
Perhaps it would be worthwhile to find out how many such working groups the various governments of Nepal have set up in recent years, without there having been any radical changes to the Everest rules. Almost always, the work of such committees has come to nothing. The last change to the guidelines – at the end of 2017 the government did not want to issue permits any more for blind climbers and double amputees – was later overruled as discriminatory by Nepal's Supreme Court.
Line of approach given
The government in Kathmandu faces international criticism because of the comparatively high number of eleven deaths on Everest in the past spring season – nine on the Nepalese south side, two on the Tibetan north side of the mountain – and the pictures of a traffic jam on the summit ridge. The committee appointed by Prime Minister Oli is obviously an attempt to pour oil on troubled water. It is hardly to be expected that the committee will make groundbreaking recommendations. The head of government has already given the line of approach: "The death of the climbers is not because of the  traffic jams," Oli said in a BBC interview (see below). Other government representatives have repeated this almost like a mantra over the past few days.