The scandal about allegedly faked rescue flights in Nepal continues to make waves. An ultimatum from the Irish company Traveller Assist, which represents several international travel insurance companies, caused a great stir among the government in Kathmandu. In an open letter Traveller Assist had announced that the insurance companies they represent would no longer issue policies for Nepal trips from 15 February unless the government took immediate legal action against the eleven trekking companies and four hospitals involved in the scandal. After a crisis meeting of the government, Tourism Minister Rabindra Adhikari rejected the accusation. "We are committed to cracking down on insurance fraud," Adhikari told the "Nepali Times", pointing out that new rules and a commission had been set up last year to put an end to illegal activity. "After that, the number of cases of helicopter rescues, especially unnecessary ones, had actually started to drop. Which is why we are concerned by the continued leaks to the international press, and the threatening tone of this letter."
Different numbers
The government announced a swift punishment of the fraudsters as well as an investigation against Traveller Assist. In addition, the Ministry of Tourism presented statistics showing that after 1,532 rescue flights in spring 2018, there were only 186 last fall. Traveller Assist immediately objected via Twitter: more than 1,600 rescue flights had been registered in the past fall season, of which 94 had been coordinated by Traveller Assist itself.
According to government sources, Traveller Assist's accusations are not entirely false. Various ministries blamed each other for the responsibility of coming to terms with the scandal and punishing the culprits, it says.
Baking soda mixed into food
After the 2018 spring season, a massive insurance fraud had been uncovered. For years, guides are said to have urged climbers and trekking tourists, even at the slightest discomfort, to board a rescue helicopter and fly back to Kathmandu for treatment. According to the government, some mountain guides had even mixed baking soda into their client's food so that they got diarrhoea and were flown out. The flights were then accounted as rescue missions with the insurance companies. Helicopters were packed with tourists, afterwards these flights were billed several times as rescue missions of individual trekkers or mountaineers. Guides and owners of lodges are said to have collected bonuses for rescue flights.
So far not a single charge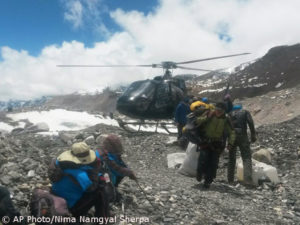 Travel Assist stated that 35 per cent of rescue flights between January and August 2018 were fraudulent, adding that the insurance companies suffered a loss of around four million dollars. "Not a single charge has been laid," wrote Jonathan Bancroft, Managing Director of Travel Assist, in his open letter to the government. Also in fall about 15 percent of the flights had been cheated again, it said.
The insurance companies represented by the company allegedly issue around 100,000 travel policies for Nepal every year. Last year, more than one million tourists visited the Himalayan state. "If our clients stop issuing travel insurance policies in Nepal, it won't be long until other insurers do the same. This will have a devastating effect on the tourism industry in Nepal, and your country's reputation," Bancroft wrote. For the government, the accusations come at an inopportune time, as they have recently launched an extensive advertising campaign for holiday trips to Nepal ("Visit Nepal 2020").
Under observation
The German travel insurers are also monitoring the development. I asked the "Europäische Reiseversicherung (ERV)", which cooperates with German operators of expeditions and trekking trips, e.g. the DAV Summit Club or Amical alpin. "We are currently unable to detect any more cases of fraud," writes the insurance company to me. "ERV still covers trips to Nepal. But we will continue to monitor the problem closely."