Once again, the highest point on earth has been a busy one over the past two days. According to the Nepalese Ministry of Tourism, more than 170 people reached the summit of Mount Everest on Sunday, with more than 100 likely to have joined them on Monday. Dozens of summit successes were also reported from Lhotse. Wang Dorchi Sherpa, who worked for the Russian expedition operator 7Summits Club, died near the nearly 8,000-meter-high Everest South Col. Nothing was initially announced about the cause of death. It was the fourth fatality of this spring season on Everest.
Among those who reached the summit of Mount Everest – by the way, most probably all with bottled oxygen – was also the blind Chinese Zhang Hong. The 45-year-old was the third blind climber to summit the world's highest mountain, after Erik Weihenmayer of the U.S. and Andy Holzer of Austria. Also on the roof of the world at 8,849 meters was former NHL professional football player Mark Pattison, who thus completed his collection of the Seven Summits, the highest mountains on all continents.
Mountain Trip pulls the brake
After Austrian expedition operator Furtenbach Adventures, U.S.-based Mountain Trip became the second company to cancel its Everest expedition, citing the corona outbreak. "Our sherpa team has been hit hard with COVID; six Sherpa have gone out, evacuated on helicopters," the operator said. "So we are now down to a number that really does not give us the safety margin we require for our guests up high." Mountain Trip said it had originally planned to trek to Lukla, but would now fly out: "We have gotten word of many issues in the lower villages of the Khumbu, with Namche, Kunde and Khumjung all virtually locked down to attempt to quell to spread of the virus."
Higher infection rate than in India
Across Nepal, more than 115,000 people are currently infected with the coronavirus, according to government data. On Monday, authorities recorded 7,720 new cases within 24 hours, with 185 people dying from COVID-19. More than 520,000 people have been infected since the pandemic began, with 6531 corona deaths. Because of the low testing capacity, a high number of unreported cases must be assumed.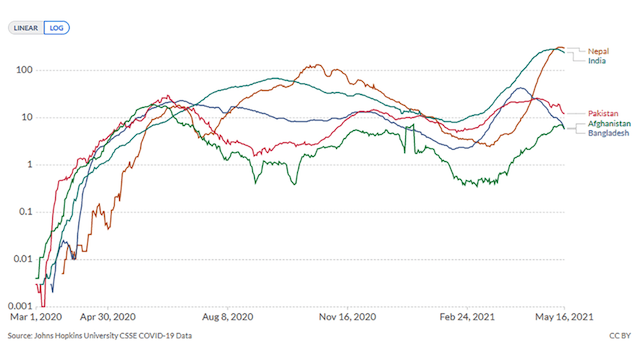 How dramatic the current corona situation in Nepal is, was shown a few days ago by an analysis of the Johns Hopkins University in the USA, which collects the registered COVID-19 data worldwide. According to this analysis, the rate of new infections in Nepal, measured in terms of population size, was even higher than in India.