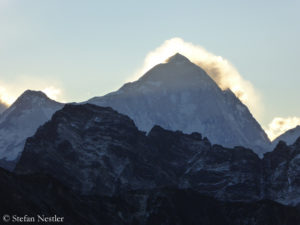 The fifth highest mountain on earth showed its teeth. Actually, Felix Berg and his team wanted to reach the 8,485-meter-high summit of Makalu in Nepal on Monday – without bottled oxygen. On Sunday evening, the German expedition leader of the operator Summit Climb, two clients from Germany, one from Austria and two Sherpas set off from their Camp 3 near Makalu La, a col at 7,450 meters – "in good weather," as Felix writes. "Unfortunately, after two hours the weather became much worse, and at 7,600 meters we turned back."
In partly gale-force winds and snowfall, the team descended to the Advanced Base Camp at 5,700 meters, "where we recover safely, partly with beer," the 40-year-old says. Whether there is enough time for another summit attempt remains to be seen. This spring, no summit success has yet been reported from Makalu. The Summit Climb team had previously acclimatized on the 6,476-meter-high Mera Peak (with summit success) and on the 7129-meter-high Baruntse (without summit success).
New route in alpine style
Meanwhile, on Baruntse, Czech climbers Marek Holecek and Radoslav Groh opened a new route in alpine style via the Northwest Face and then reached the summit. "We didn't even take pictures, no expressions of joy, and we immediately continued as soon as the hellish weather allowed us to descend," Marek reported yesterday by satellite phone. "We are in the seven thousand, where we built the sixth bivouac. We pray that tomorrow at least for a while it will be visible and we can descend. We are very tired!"
In 2018 (new route on the eight-thousander Gasherbrum I in Pakistan) and 2020 (new route on the seven-thousander Chamlang in Nepal), Holecek, together with his climbing partner at the time, Zdenek Hak, had been awarded the Piolet d'Or, the "Oscar of climbers".
Update 27 May: The two Czechs were also stuck in the tent all Wednesday at 6,900 meters. Zero visibility.