In summer 2004, the same problem befell us. On the journey to K2, the second highest mountain on earth in Pakistan, both mountaineering legend Kurt Diemberger and I contracted diarrhea that put us out of action for two days. As we later discovered in conversation, we had both eaten eggs in a hotel in the town of Chilas on the Karakoram Highway that were past their prime. With rather wobbly legs, we set off as planned to trek across the Baltoro Glacier.
At the time, Kurt was accompanying a large Italian expedition as guest of honor, which had set itself the goal of another ascent of the mountain on the 50th anniversary of the first ascent of K2 by the Italians Achille Compagnoni and Lino Lacedelli – five climbers of the team later succeeded in reaching the summit, all without the use of bottled oxygen. I was on a reporting trip to K2 because of the anniversary, which Kurt described to me as his "dream and destiny mountain."
Success and tragedy on K2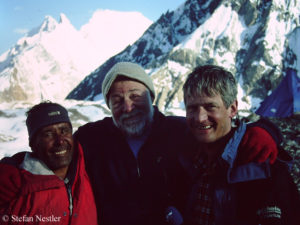 In summer 1986, the Austrian had reached the 8,611-meter-high summit of K2 with his longtime rope partner, the British Julie Tullis. On their descent, they were caught in a storm that trapped them in high camp for days. Julie died of exhaustion. Four other climbers also lost their lives. Kurt reached K2 base camp with severe frostbite, and several phalanges of his right hand had to be amputated. He was able to live with that, but the loss of his friend Julie hit him much harder. "It took me years to get over it," Kurt told me in 2004.
This Wednesday, Diemberger celebrates his 90th birthday in his home town of Bologna in northern Italy. He is the only living mountaineer to have achieved two first ascents of eight-thousanders.
Revolutionary style
In 1957, the then 25-year-old and his Austrian compatriots Hermann Buhl, Markus Schmuck and Fritz Wintersteller made alpine history: they were the first to scale the eight-thousander Broad Peak in Pakistan – and they did it in the "Western Alpine style": as a small team, with minimal equipment, without high altitude porters and without bottled oxygen. This was tantamount to a revolution. At that time, eight-thousanders were usually besieged with large teams and mountains of equipment.
After the success, however, the rope team fell apart. Schmuck and Wintersteller first climbed the 7,410-meter-high Skil Brum. Buhl and Diemberger attempted the 7,688-meter-high Chogolisa. On the summit ridge, the two were caught in a weather storm. Suddenly a cornice broke off under Buhl and he fell to his death.
Six eight-thousanders
In 1960, three years after the triumph on Broad Peak and the tragedy on Chogolisa, Diemberger was also among the climber, who made the first ascent of Dhaulagiri. Apart from him, only Hermann Buhl had succeeded in climbing two eight-thousanders for the first time (in 1953 Nanga Parbat, in 1957 Broad Peak). Later, Kurt stood on the summits of four more eight-thousanders: Makalu (in 1978), Mount Everest (in 1978), Gasherbrum II (in 1979) – and K 2 (in 1986). He was always searching for "the magic of the unknown", Kurt wrote in one of his many books.
Who goes slowly …
Diemberger enjoyed and still enjoys a great reputation worldwide not only as a mountaineer, but also as a filmmaker, photographer and author. In 2013, he was awarded the Piolet d'Or, the "Oscar of climbers" for his life's work. At 90, of course, the time of high mountains is also over for Diemberger. But if he continues to adhere to his own motto, which he likes to quote again and again, he will remain on the road – to an age-appropriate degree: "Who goes slowly, goes well. Who goes well, goes far."
In 2004, by the way, we both reached the base camp at the foot of K2 as planned – hiking at a deliberate pace. And since then, we have certainly looked more closely at the eggs than we did back then. All the best, dear Kurt, stay fit and healthy! You'll still manage the 100.