The spring climbing season in Nepal starts moving. The first foreign mountaineers have already arrived in the Himalayan state, among them Austrian Hans Wenzl. The 51-year-old is attempting the 8,091-meter-high Annapurna in the west of the country this spring. Hans, who earns his living not as a professional climber but as a foreman for an Austrian construction company, has already scaled nine eight-thousanders – all without bottled oxygen, including Mount Everest (in 2017) and K2 (in 2019).
First permits for four of Nepal's eight-thousanders
Nepal's Ministry of Tourism has so far (as of 27 March) issued permits for 11 foreign female climbers and 14 male climbers from three expeditions to climb Annapurna. Permits have also been issued for three teams, each on other eight-thousanders: for Dhaulagiri (11), Lhotse (5) and Everest (9).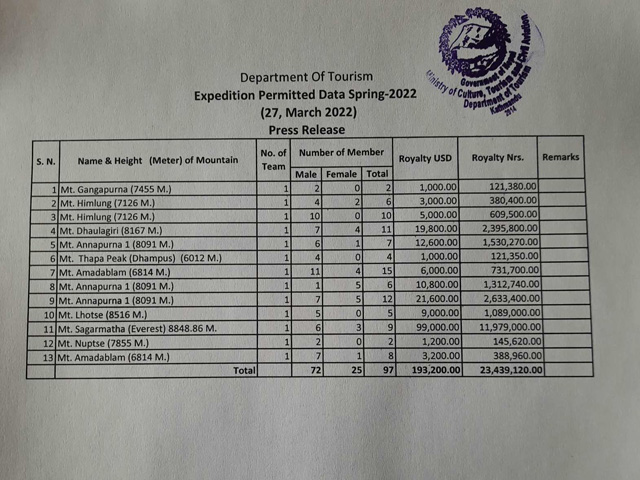 On Dhaulagiri, Sherpas have already begun fixing the ropes to the high camps. Among the summit aspirants this spring will be – no surprise – once again Carlos Soria. The now 83-year-old wants to attempt the 8,167-meter-high mountain in western Nepal for the twelfth time (as he himself says – according to Himalayan Database it is even the 13th time since 1998) – with bottled oxygen.
Route through the Khumbu Icefall in progress
Meanwhile, on Mount Everest, six "Icefall Doctors" are setting up the route through the dangerous Khumbu Icefall for the commercial teams. The team of the Sagarmatha Polution Control Committee (SPCC) is led by Tshering Tenji Sherpa. As usual, the Icefall Doctors, who are specialists in this task, will maintain the icefall route, which is secured with fixed ropes and ladders, throughout the season until the beginning of June.
After last year's record rush to Everest with 408 permits, it could be a little less crowded this year at the highest mountain on earth. Demand from China, India and some European countries is reportedly lower than usual. The reason is the uncertainty caused by the Ukraine war – and still the corona pandemic.