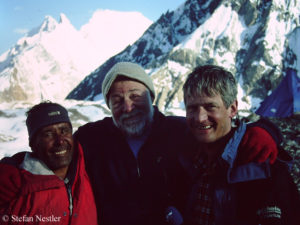 The only 1.58 meter "Little" was one of the greats. According to Pakistani media reports, the legendary Pakistani mountaineer Mohammad Karim, whom everyone only called "Little Karim" because of his height, died today at the age of 71 in a military hospital in the city of Rawalpindi. Karim was suffering from liver cancer, and the regional government of Gilgit-Baltistan had only recently declared that it would cover the costs of "Little Karim's" treatment. As a result, he had been transported from his home in the mountain village of Hushe to Rawalpindi.
Without breathing mask on Gasherbrum II
"Little Karim" advanced to become Pakistan's most popular high altitude porter in the 1980s and 1990s. Twice he summited the 8051-meter-high Broad Peak, once – without bottled oxygen – the 8034-meter-high Gasherbrum II. Nine times he tried in vain to scale the 8,611-meter-high K2. Once he had to turn around 25 meters below the summit, Karim told me in broken English in summer 2004, when I met him at Concordiaplatz, within sight of K2. "A very difficult mountain," he said laconically at the time. Several times he saved the lives of climbers who had got in trouble on Pakistan's eight-thousanders.
"I looked like a ten-year-old"
As a child, "Little Karim" herded cattle with his parents in the mountains above Hushe. In the mid-1970s, he set out for the regional capital of Skardu to sign on as a porter for one of the expeditions in the Karakoram. "I was in my teens but I still looked like a ten-year-old," said "Little Karim" in an interview with the Pakistani newspaper "Dawn" a few years ago: "But no one took me on, everyone rejected me for being 'a small boy'. They did not trust me to be able to carry the required 25 kilos."
Eventually, however, Little Karim did find his first job in 1976 on a Swiss expedition to a seven-thousander peak located near the Baltoro Glacier because there were too few porters available. During the approach, his determined action rescued a Swiss woman who had fallen into a mountain stream.
Bonington shouldered
In 1978, legendary British expedition leader Chris Bonington also found Karim too small to be hired as a porter to K2. Mohammad refused to accept this. He squeezed between the tall Brit's legs, lifted him onto his shoulders and carried him around in circles. Bonington was impressed and hired him as a porter – as did later other legendary mountaineers such as the South Tyrolean Reinhold Messner or the Frenchman Jean-Marc Boivin, for whom he carried the paraglider to the summit of Gasherbrum II.
Incidentally, in his own words, "Little Karim" received his nickname during a French K2 expedition in 1979, when there were three Karims among the porters. "Every time the name 'Karim' was called out, all three responded," Mohammad said in the "Dawn" interview mentioned before: "To get around this problem, the leader of the expedition named us Big, Medium and Little. Over the years, it was only 'Little" that survived the tests of time to earn worldwide recognition in the mountaineering world."