Ang Dorjee Sherpa is pleased. "Today 471 trekking tourists arrived in Namche, a new record this spring," the 53-year-old owner of the "A.D. Friendship Lodge" in Namche Bazaar, the main village of the Everest region, wrote me yesterday, Tuesday. By comparison, last fall there were a peak of about 250 new arrivals per day.
Lodge owners like Ang Dorjee are thirsty for guests – two lean years in the wake of the corona pandemic lie behind the people of the Khumbu region, almost all of whom live from mountain tourism. According to Ang Dorjee, 33 planes and helicopters landed at the airfield in Lukla, the gateway to the Khumbu, on Tuesday. That almost sounds like normalcy again.
More than 40,000 arrivals in March
The government of Nepal had eased the entry regulations before the start of the spring season in an effort to revive the battered tourism industry. Entrants who are fully vaccinated against COVID-19 are no longer required to present a negative PCR test that is no more than 72 hours old. This requirement now only applies to the unvaccinated.
Hotel quarantine after entry is a thing of the past, as is the requirement to show proof of health insurance that covers COVID-19. In March, some 42,000 foreign tourists arrived in Nepal – the highest monthly total since the pandemic began.
176 Everest permits so far
While trekking tourism seems to be slowly recovering, the number of mountaineering groups in the Himalayan nation is still comparatively low. So far (as of 6 April), Nepal's Ministry of Tourism has issued permits to 451 foreign mountaineers (110 women and 341 men) to climb mountains higher than 6,000 meters. The highest of all mountains accounted for the most permits: 19 teams with a total of 176 foreign members have so far registered for Mount Everest.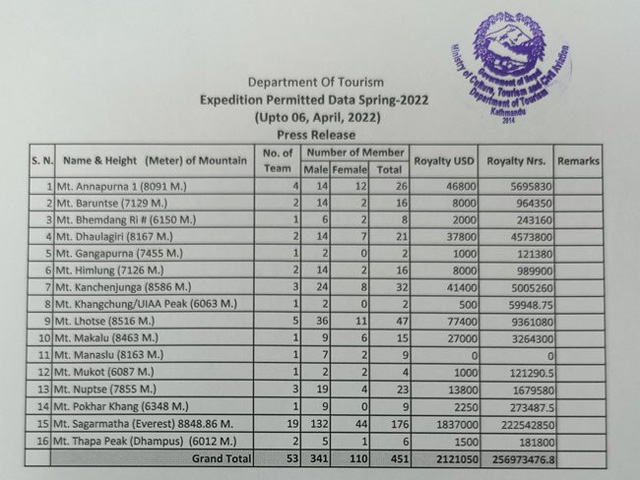 The record number of 408 Everest permits from last year (despite COVID-19) will probably not be reached this spring. The reason is on the one hand the uncertain world situation due to the Ukraine war, and on the other hand the still rampant pandemic, which prevents climbers from China in particular from traveling abroad.