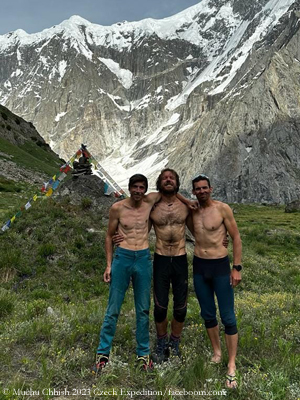 It didn't take much for the first ascent of the 7,453-meter-high Muchu Chhish in the Karakoram in Pakistan. The two Czechs Tomas Petrecek and Radoslav Groh made it to an altitude of 7,200 meters – without bottled oxygen – but then found the summit zone a too hard nut to crack.
"Tons of mini snowballs everywhere, which you can't walk through, dig through, climb through. Such a surprise awaited us below the peak of Muchu Chhish, just before the destination of our expedition," the team let it be known. "For three days we tried to somehow pass through this mass, but in vain. There was no strength left for more attempts, and after careful consideration we preferred to turn it back down."
Third failed attempt
Earlier, Pavel Korinek had guided Pavel Bem, once the mayor of Prague, who was suffering from high altitude sickness, down the mountain and then attempted to rejoin Petrecek and Groh. However, after a week at high altitude and the great efforts in the summit area, mild symptoms of altitude sickness also made themselves felt in the two climbers. They abandoned their summit attempt.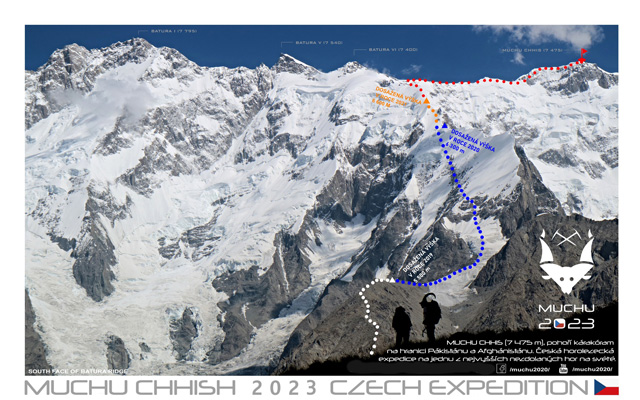 It was the third failed attempt of the Czechs on Muchu Chhish. In the first attempt in 2020, they had reached an altitude of 6,300 meters, and in the second in 2021, 6,600 meters. Thus Muchu Chhish remains for the time being the second highest still unclimbed mountain in the world. The highest is the 7,570-meter-high Gankhar Puensum on the border between Bhutan and China. In Bhutan, mountains are regarded as the abode of the gods and are therefore generally not allowed to be climbed since 2004.
Will there be a fourth attempt by the Czechs? "Returning to Muchu is a dirty word for now, but maybe it will break when we all eat properly," announced the Czech climbers after their latest adventure in the Karakoram. The first ascent would really be to their credit. They climbed in clean style, gave it their all again, but ultimately failed due to the conditions on the mountain. This is often the case with real alpinists. But the attempt alone is worthy of all honor.
Hiraide and Nakjima open new route on Tirich Mir
Speaking of real alpinism. According to their sponsor Ishii Sports, Japanese Kazuya Hiraide and Kenro Nakajima mastered the North Face of the 7,708-meter-high Tirich Mir, the highest mountain in the Hindu Kush, for the first time. Further details are not yet known.
The two mountaineers from Japan are known for their pure climbing style. In 2019, they achieved the first ascent of the South Face of the 7,788-meter-high Rakaposhi in Pakistan. For this they were awarded the Piolet d'Or, the "Oscar of Mountaineers". In 2017, they were the first to climb the Northeast Face of the 7611-meter-high Shispare.