Nims did it. "Mission achieved", Nirmal, called "Nims" Purja announced today, after his "Project Possible" team had reached the 8,027-meter-high summit of Shishapangma in Tibet. The 36-year-old former soldier of the British Gurkha Regiment has thus successfully completed his plan to climb all 14 eight-thousanders in seven months. It was even faster than planned. Only six months and six days passed between his first eight-thousander success on Annapurna on 23 April and that on Shishapangma. For comparison: The fastest eight-thousander collector to date, the South Korean Kim Chang-ho, needed seven years, ten months and six days.
Also all financial hurdles cleared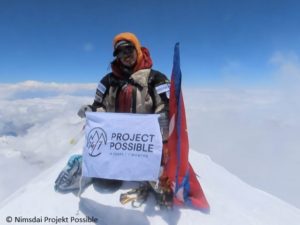 When Nims presented his project last year, many thought it was a PR gag. How would that work? The logistical problems alone seemed insurmountable. And then the financing. In order to get started at all, Purja took out a second mortgage on his house and put the money into his project. He struggled to find sponsors. At several eight-thousanders he led clients to the summit so that he would not run out of money. This was the case after he had "ticked off" the first six eight-thousanders in Nepal in spring. He was missing 150,000 British pounds (168,000 euros) at that time. But somehow he scraped the money together.
Chinese-Tibetan authorities granted special permit
Much later than planned, Nims travelled to Pakistan and scaled the country's five eight-thousanders within three weeks. And also the third phase in fall was difficult at the beginning. Above all, the two eight-thousanders Cho Oyu and Shishapangma located in Tibet caused him trouble: The Chinese-Tibetan authorities demanded that all expeditions had to have left Cho Oyu by 1 October, and Shishapangma was completely closed. Apparently they did not want foreign spectators if there were unrest in Tibet during the festival week for the foundation of the communist state 70 years ago.
Nims climbed Cho Oyu and Manaslu within four days. Then the waiting began. For many unexpected, the authorities in Tibet finally showed themselves merciful and granted Purja a special permit for Shishapangma – the Nepalese government and many from the mountaineering scene had appealed to the Chinese to make an exception for Purja. And Nims took his chance – and finished his project.
Involved in four rescue operations
Purja will appear several times in the next Guinness Book of Records. Not only as the fastest 8000er collector. Within only 48.5 hours he stood on the summits of Mount Everest, Lhotse and Makalu. On Dhaulagiri, he and his comrades succeeded in achieving the only summit success of the spring season despite adverse weather conditions. And also on K2 he broke the summit spell after many expedition teams had already left. Two days later he scaled Broad Peak. In addition, Nims and his changing teams were involved in four eight-thousander rescue operations.
Mingma David Sherpa completes 14×8000
Nirmal Purja flew, where possible, by helicopter from base camp to base camp, used bottled oxygen above 7,500 meters, climbed via the normal routes, which were often already prepared, and he had strong partners around him. He would not have made it without his team. Mingma David Sherpa was involved in eight of Purja's eight-thousander successes. The 30-year-old completed his eight-thousander collection on Shishapangma. Geljen Sherpa also took part in eight ascents, Gesman Tamang in seven. Nims and Co. showed what is possible with bottled oxygen and a strong team on the normal routes – and of course with a lot of determination.
Chapeau, Nims and Co.!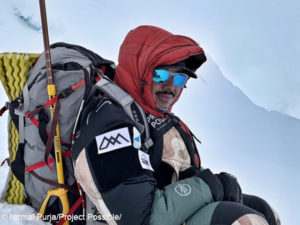 "We have come this far with great positive mindset, that willing to make things happen, great sense of humour, humility and the discipline factor we had to stick by," wrote Nims before leaving for Shishapangma, his last of the 14 eight-thousanders. And he promised, "Believe me, my friends, it's only the beginning."
On these days Nirmal Purja stood on the summits of the 14 eight-thousanders:
Annapurna – 23 April, Dhaulagiri – 12 May, Kangchenjunga – 15 May, Mount Everest – 22 May, Lhotse – 22 May, Makalu – 24 May, Nanga Parbat – 3 July, Gasherbrum I – 15 July, Gasherbrum II – 18 July, K2 – 24 July, Broad Peak – 26 July, Cho Oyu – 23 September, Manaslu – 27 September, Shishapangma – 29 October.