Nirmal, called "Nims" Purja has not lost his optimism yet. "We are making progress, the project is still on and I will complete it within my seven-month goal," the 36-year-old Nepalese posted on Twitter these days. In seven months Nims wants to have scaled all 14 eight-thousanders. In the spring season in Nepal everything went according to plan. Within a month and a day he stood on the summits of six eight-thousanders: Annapurna (23 April), Dhaulagiri (12 May), Kangchenjunga (15 May), Mount Everest (22 May), Lhotse (22 May), Makalu (24 May). The last three summits he completed within 48 hours and 30 minutes. He ascended with his Sherpa team with bottled oxygen via the normal routes. They were flown to the different base camps by helicopter.
Two rescues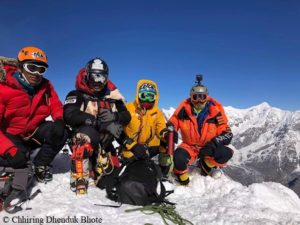 But Purja did not only make headlines with his ascents. On Annapurna, he belonged to the Nepalese who laid the fixed ropes up to the summit. Then he took part in the rescue of the Malaysian mountaineer Wui Kin Chin. Nims and the other rescuers managed to bring Chin from over 7,000 meters from the mountain, but he died a few days later in a hospital in Singapore. On Dhaulagiri, Purja and his companions were the only climbers to reach the summit this spring – despite bad weather. On Kangchenjunga, Nims tried to rescue two Indian climbers who, completely exhausted, had run out of oxygen when they descended. Both died. Most of the headlines, however, were brought to the former soldier of the British Gurkha regiment by the photo he took on 22 May on the summit ridge of Everest. The picture, which showed a long queue on the narrow ridge, went around the world.
Actually, Nims Purja wanted to be now already in Pakistan – for the second phase of his "14/7 Project Possible": this summer he wants to scale the five eight-thousanders of Pakistan. But he had to postpone his departure because he still lacks money to continue his project. Nims has already taken out a second mortgage on his house in Great Britain. He collects donations via crowdfunding (anyone who wants to support him can do so here – click on the link!). I sent Purja some questions. Here are his answers.
Nims, you stood on the summit of six eight-thousanders in Nepal this spring and were right on schedule with your "Project Possible". You had to fight the most on Dhaulagiri. How much risk did you have to take?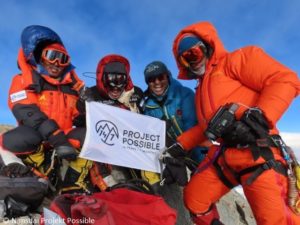 This was my hardest climb, by a long way because of that it was a greater risk. However my team and I assessed that the risk was not out of proportion. We planned accordingly and summited safely.
How much of your success did the Sherpa team around you contribute?
We are equals in my team. I class myself as one of the Sherpas as you say. We complete the same tasks carry the same equipment and do the same work. Without any one of us doing what we did then things wouldn't have worked out as they have so far.
Now you had to postpone your departure to the Karakorum for at least four weeks, because the lack of funding. How much money is missing?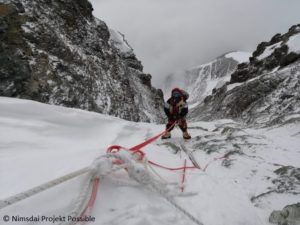 We are short of £150k (about 168,000 euros).
What makes the project so expensive?
Everything. Permits, logistics, getting from place to place, kit, equipment, insurance. Climbing 8000ers is expensive. Look at single expeditions that cost in the region of £50k (56,000 euros), now multiply that by 14!
What are your next steps, should you get the money for the second phase of your project?
The next steps will be to summit all the mountains in phase two before the end of July. That was and still remains the plan.
What makes you optimistic that you can still reach your goal despite the delay?
Simple. What makes it possible is the ethos I live by. I firmly believe that everything in life is possible armed only with a determined approach and positive mindset. I am determined and I have a positive mindset.
In spring you were involved in two rescue operations, first on Annapurna, then on Kangchenjunga. Both were in the end in vain, the mountaineers died. What feeling remains with you?
The feelings that my team and I did everything we could. We risked everything, our own lives. We could have done nothing more. We have no regrets surrounding our actions and would do the same again.