Kali Bahadur Shahi rejoices. "We are encouraged and inspired that our dream will soon become a reality to provide quality education to this underprivileged community," says the teacher from Rama. Nepalhilfe Beilngries is currently building a new school for more than 350 students in this small mountain village in Humla District, in underdeveloped western Nepal. This was made possible by your donations for my aid project "School up – far west".
"We are grateful from the bottom of our hearts for the material support for the construction," says Shahi. "We are very motivated. We have started classes in one building while the first-floor ceiling in the other has just been concreted."
First ceiling in second building is finished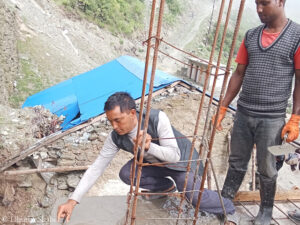 The interior work on the first building has not yet been completed, but it makes more sense to hold classes there than outdoors, as was necessary time and again in the past few months.
The second building is currently under construction. Shyam Pandit, program coordinator of Nepalhilfe Beilngries in the Himalayan country, informs me that the ceiling of the first floor has now been concreted. The wall that protects the school grounds from the landslides that often occur in the region is also in place.
So you see: Your money is working and does not disappear into nirvana – as is often the case with aid projects in developing countries. "You are in our hearts," teacher Shahi thanks all donors, "because you are financing the school and thus enabling us to have a good learning environment in such a remote village in Humla, in such an isolated community."
To ensure that the work in Rama does not stall, we continue to rely on your donations for "School up – far west". Every euro helps. Here is the bank account again:
Recipient: Nepalhilfe Beilngries e.V..
Bank: Volksbank Bayern Mitte eG/Germany
IBAN: DE05 7216 0818 0004 6227 07
BIC/SWIFT-Code: GENODEF1INP
Intended purpose: School up – far west
To conclude with the words of Kali Bahadur Shahi from Rama: "Your support affects every heartbeat of this community. You are always with us by helping us make our dream come true."
P.S. I will continue to update you on the progress of the construction. I promise!