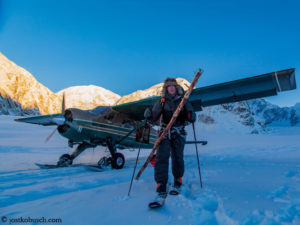 US President Donald Trump has also slowed down Jost Kobusch with his shutdown of the federal administration. The German climber was suddenly standing in front of a locked door in Talkeetna in Alaska. Jost read on a sign behind the glass pane that the rangers' office was closed "due to the lapse in funding of the federal government budget". The Denali National Park administration sent an email to the 26-year-old informing him that he would probably not receive any more news due to the shutdown for the time being. "Just watch the news," he was recommended.
"Government bullsh.."
Kobusch had planned to climb solo the 6,190-meter-high Denali, the highest mountain in North America, this winter. He had completed all the formalities – except for the visit to the Ranger station in Talkeetna. One and a half years preparation a dog's breakfast. "It's kind of a very big failure," Jost told the Canadian TV station KTVA (see the video below). "It's one thing if you are on a mountain and its windy and you are forced to return by storm. It's another thing if you are forced to return because of some government bullshit." In order not to have to travel home to Germany empty-handed, Kobusch at least wanted to climb the 3,773-meter-high mountain Kahiltna Queen in winter. But that didn't happen either, the avalanche danger was too great. "I'll come back next year," Jost announced.
In 2015, Kobusch had become well known all over the world. The young German had shot a video of the giant avalanche – triggered by the devastating earthquake on 25 April 2015 – which had destroyed the base camp on the Nepali side of Mount Everest and had killed 19 people. In spring 2016, Kobusch scaled Annapurna, his first eight-thousander – without bottled oxygen. In fall 2017, Kobusch, climbing solo, succeeded the first ascent of the 7296-meter high Nangpai Gosum II in eastern Nepal. Last fall, Jost according to his own words opened a new route on the Carstensz Pyramid, with an altitude of 4,884 meters the highest mountain in Oceania. Denali should become his next solo attempt on one of the "Seven Summits", the highest peaks of all continents. But Trump couldn't care less about climbers. But who does he actually care about?