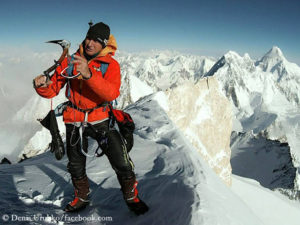 "Denis did it. He's already in camp 1. He'll be back in base camp tonight." With this message the Spanish climber Maria "Pip" Cardell made the scene be able to breathe a sigh of relief. On Wednesday evening, Denis Urubko had set off from Camp 1 at about 5,900 meters to climb the 8,034-meter-high mountain solo, without bottled oxygen, on a new route and then descend via the normal route. Urubko had wanted to climb up an down in one push, without a bivouac, in order to be able to climb as light as possible. Since then, nothing had been heard from the 46-year-old Kazakh, who now has a Russian and a Polish passport.
Partner injured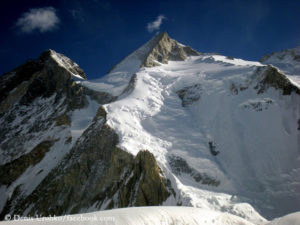 On 18 July, Urubko had already scaled Gasherbrum II via the normal route to acclimatize for his actual project. Denis had originally planned to open the new route along with his partner Pipi Cardell. But the Spaniard had injured her back unhappily on the trekking to the eight-thousander, so that she was unable to climb.
Rescuer again and again
After his ascent of Gasherbrum II two weeks ago, Urubko took part in several successful rescue operations, including that for the Italian Francesco Cassardo on Gasherbrum VII.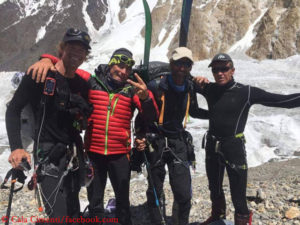 When other mountaineers get into trouble, you don't have to ask Denis twice. Urubko had also been one of the Polish rescuers who in winter 2018 had brought down the Frenchwoman Elisabeth Revol from the slopes of Nanga Parbat in a dramatic action. Urubko and the Poles Adam Bielecki, Jaroslaw Botor and Piotr Tomala were awarded the Order of the Legion of Honor, one of the highest awards in France.
Urubko had already completed his collection of 14 eight-thousanders in 2009, all of which he climbed without bottled oxygen. On Makalu (in 2009 with Simone Moro) and on Gasherbrum II (2011 with Moro and Cory Richards) he had achieved two first winter ascents of eight-thousanders.
P.S.: I now say goodbye for two weeks in order to relax. And where better to do that than in the mountains? 🙂