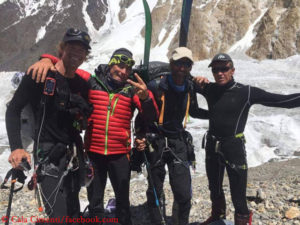 Happy end of the dramatic rescue operation on Gasherbrum VII: This morning local time in Pakistan a rescue helicopter finally landed near Camp 1 at 5,910 meters to pick up the seriously injured Italian climber Francesco Cassardo and fly him to Skardu. There he is now being treated in a hospital. After Cassardo and his compatriot Cala Cimenti had climbed up to 150 meters below the summit on Saturday (only Cala reached the highest point later and thus achieved the first ascent of the 6,955-meter- high Gasherbrum VII – see update below), the 30-year-old had fallen on his descent about 450 meters deep. Francesco's life was hanging by a thread. As reported, the deployment of a rescue helicopter had been delayed for bureaucratic reasons.
"Angels, without whom we would not have made it"
Yesterday afternoon the Russian Denis Urubko , the Canadian Don Bowie as well as the two Poles Jaroslaw Zdanowicz and Janusz Adamski arrived at the spot at 6,300 meters where the two Italians had spent the previous night. The climbers joined forces to transport Cassardo down to Camp 1, where they all stayed overnight. After the rescue helicopter had picked up the injured climber, the others descended to Gasherbrum Base Camp. The four rescuers, Cimenti let us know on Facebook, were "angels": "Without them we would not have made it. Francesco couldn't have spent another night at 6,300 meters."
Hats off to Cimenti and the four rescuers!
According to Cala's words, Urubko, Adamski and Zdanowicz had only just returned from a summit success on Gasherbrum II and Bowie renounced his summit attempt for the rescue operation. Urubko brought an oxygen bottle for Cassardo, says Cimenti adding that the injured was urgently dependent on the supplemental oxygen. "When he was loaded into the helicopter, he smiled, was able to speak and was in his right mind. We are confident that the guy will not give up." Hats off to Cimenti and the four rescuers! The question to the Pakistani authorities remains: Why has a rescue flight once again been delayed?
Update 7.30 pm: According to Cassardo's family, the examination at the hospital in Skardu revealed that he has suffered a fracture of his wrist and possibly his elbow. Maybe also a few fingers. He has frostbite on his nose and fingers. However, he has no serious head or neck injuries. He is expected to be flown to Islamabad on Tuesday. Get well soon, Francesco!
Update 23 July: Cala Cimenti informed that Francesco turned around 150 meters before the highest point on the summit day: "He was worried about the descent. (…) The mountain is very steep, especially in the lower part, and the snow was very hard. Perfect conditions for a good skier, but that doesn't allow any mistakes. He made a mistake at the beginning of the super steep part and fell several times overturning and with more and more speed about 450 meters deep. Only at the foot of the mountain did he come to rest. In the fall he lost everything, backpack and clothes, except his torn undershirt."