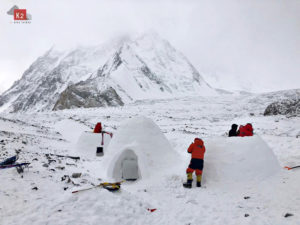 Bad weather forces the climbers of the winter expeditions on the eight-thousanders K2 and Nanga Parbat in Pakistan and on Manaslu in Nepal to inactivity. The team from Kazakhstan, Russia and Kyrgyzstan led by Vassiliy Pivtsov returned to K2 Base Camp yesterday after the seven climbers, according to their own words, had fixed ropes on the classical Abruzzi route up to an altitude of 6,300 meters. The Spaniard Alex Txikon's team has not yet ascended, but built in the base camp three igloos, in which a total of ten to 14 people can sleep. Alex was thrilled after his first igloo night.
"Best night of my eight winter expeditions"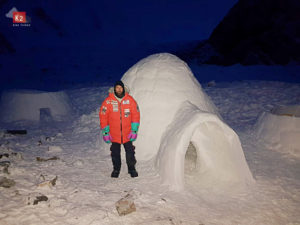 "In the dining tent we had temperatures of minus 13 degrees Celsius, in the normal tent minus 26 degrees, but in the igloo we slept at minus five degrees," reported the 37-year-old. "I must say it was the best night of my eight winter expeditions. When you go from the dining tent to the igloo, all your muscles freeze, your hands get stiff and the wind blows in your face. But when you enter the igloo, silence returns, the sound of the wind disappears." The team is considering building igloos in the Advanced Base Camp (ABC) too.
Even longer snowfall on Nanga Parbat
On K2, the second highest mountain on earth, snowfall is predicted at least until Wednesday morning local time, at Nanga Parbat possibly even until the weekend. There the Italian Daniele Nardi and the British Tom Ballard had reached an altitude of 6,200 meters last week in their attempt to completely climb through the so-called "Mummery Rib", a striking rock spur in the Diamir Face, for the first time. "Well, what did you expect? It is winter on the ninth highest peak in the world. No picnic," Tom wrote on Facebook.
Crevasse stops Moro and Pemba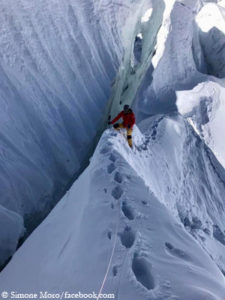 Also on the eight-thousander Manaslu in Nepal no other picture: "Snow, snow, snow …," writes Simone Moro today from the base camp. "Hopefully it will stop soon, but as per the weather forecast by Karl Gabl (a well-known meteorologist from Austria) it will snow till 29th." On Sunday, the 51-year-old Italian had let us known that he and his Nepalese climbing partner Pemba Gyalje Sherpa were forced to rest and think about a new plan because of the bad weather: "There's maybe one way to avoid the problems we faced today." The two had climbed up to 6,400 meters, but had then been stopped by a crevasse that, according to Simone, "can be overcome only with ladders (that we don't have and in any case we would not use)."