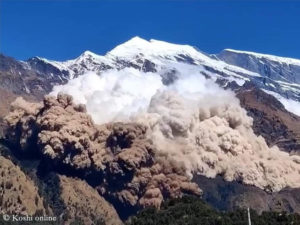 0.0 – that's how high the chance of survival would have been if someone had been right at the foot of the mountain. The force of the avalanche that swept down yesterday from the 6380-meter-high Manapathi near the eight-thousander Dhaulagiri in western Nepal was so great that it also jumped over the next mountain range and almost reached the villages in front of it. The videos (see below) of the massive avalanche in Mustang district, which were circulated on social networks, are terrifying.
Eleven injured
According to initial reports from the region, the consequences were relatively mild. Eleven people were slightly injured in a school when panic broke out in the face of the approaching avalanche, it said. More than 100 yaks that had been grazing in the area are missing.
According to the chronicle Himalayan Database, Argentine Emiliano Huerta and Nepalese Ajiba Sherpa were the first to scale Manapathi in spring 1956. The first ascent of a nearby four-meter higher peak (Manapathi Northeast) is credited to South Tyrolean Reinhold Messner, British Leo Dickinson and Eric Jones, and German Otto Wiedemann in spring 1977.
A giant avalanche like yesterday's is considered very unusual in this region in November. Press reports in Nepal blamed it on increased temperatures as a result of climate change.