Unlike the two climbers with whom he set out for the summit of Annapurna, Hans Wenzl will return home from the eight-thousander in western Nepal without frostbite. As reported, the 51-year-old Austrian reached the 8,091-meter-high summit last Thursday – and returned safely to base camp. It was Wenzl's tenth eight-thousander that he scaled without breathing mask.
The Italian Giampaolo Corona and the Swede Tim Bogdanov, with whom Hans had teamed up on the ascent, also reached the summit, but had to be rescued by helicopter from high altitude on the descent. Hans Wenzl answered my questions after his return to base camp.
Hans, when will you let the bottle caps fly after your tenth eight-thousander success?
I don't feel like celebrating until I'm back in Kathmandu. I didn't feel like it at base camp – especially because two of my friends were still on the mountain this time and we didn't know how it would turn out for them.
How was it for you, up there on the summit at 8,091 meters? What was going through your mind?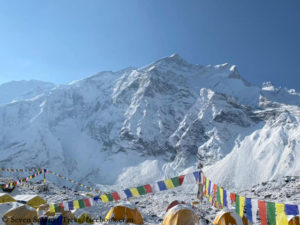 You struggle step by step up to that summit, especially the last 200 to 300 meters. When you reach the top, you are relieved and happy. You've been looking up at the top of the mountain from base camp for almost four weeks. Now you're standing up there, that's something special. But in my mind I was also thinking about the weather, which was supposed to get worse in the afternoon of the summit day, and about the descent.
Annapurna is one of the most dangerous eight-thousanders. Did it also show its teeth to you?
Yes. Annapurna is very dangerous, especially in the middle part between Camp 2 and 3, where avalanches and serac break-offs threaten. It can happen at any time, and it has happened again and again! In addition, the summit day was very long. 1,100 meters of altitude had to be overcome, there was a lot of snow. And in the afternoon the weather usually got worse.
On the ascent you formed a trio with the Italian Giampaolo Corona and the Swede Tim Bogdanov who were also climbing without bottled oxygen and Sherpa support. How did this trio turn out?
We didn't know each other beforehand. But all three of us went to the mountain with the premise of working our way up independently. Of course, it's easier to do that in teamwork. We chose the same tactics on the mountain. Thus, to shorten the summit day, we pitched up Camp 4 almost 300 meters higher than the other climbers, most of whom were using bottled oxygen. However, each of us had his own tent.
Giampaolo Corona and Tim Bogdanov eventually had to be rescued by helicopter longline from about 7,000 meters. Had you separated? How was your descent?
Giampi, Tim and I started at the same time around 1:30 a.m. local time from our Camp 4. Up there, everyone goes at their own pace. Giampi and I were together at a fast pace for about three hours. Tim was already lagging further behind from the beginning. Eventually Giampi slowed down as well. I kept looking back. I thought he had turned around. I continued at my relatively fast pace until the summit, knowing that conditions were deteriorating in the afternoon.
As I descended back from the summit, I met Tim first, still on the ascent. And then Giampi – which was a mystery to me, as I actually thought he turned back. I myself got caught in a thunderstorm with snowstorm at about 4 p.m. I had a lot of problems to find my tent. Tim and Giampi did not reach Camp 4 that night. It was lucky that they survived the night at all – and then another day and night before they were brought down by longline.
There were also many paying clients on Annapurna this year who were climbing with bottled oxygen and a personal Sherpa (or even several). Do you have a problem with such a style?
Basically, I have no problem with climbers using supplemental oxygen and Sherpa assistance. And one thing should not be hidden: The more Sherpas there are on the mountain, the greater everyone's chances of reaching the summit! It only bothers me when people without any experience on mountains suddenly want to climb the eight-thousanders and then make the Sherpas alone responsible for their success or failure. It should be mountaineers (!) who take a Sherpa and reach for the oxygen bottle.
You have now climbed ten eight-thousanders, all without a breathing mask. Where do you place Annapurna?
Annapurna is certainly one of the more dangerous eight-thousanders I have climbed so far, mainly because of the dangerous middle section of the route. One advantage is the comparatively lower altitude. For example, Mount Everest is about 750 meters higher, which makes it so difficult without using a breathing mask.
You are neither a professional mountaineer nor a millionaire. How does a foreman from an Austrian construction company manage to keep setting off on eight-thousander expeditions?
My job keeps me very busy. So, as this year, I still work one day before my departure and will start working again a few days after my return. Financially, this only works because I book directly with a Nepalese expedition operator and only use the minimal service: no Sherpa support, no oxygen.
The circle of those who – like you now – have summited ten eight-thousanders without bottled oxygen is rather small. Do you have the feeling that you are now treated differently in the high-altitude mountaineering scene than you used to be?
Whether it's the second or the tenth eight-thousander doesn't make that much difference, because in high-altitude mountaineering it always depends on the situation. What is the weather like, what is your personal condition …? Of course, other climbers admire you when they hear that you have already scaled nine eight-thousanders. You can only give them a recipe with your tactics. The only thing that matters is your endurance on the summit day. But you should also be honest: You won't reach the summit without taking a certain risk.
In your list of eight-thousanders, Kangchenjunga, Lhotse, Dhaulagiri and Shishapangma (Main Summit, you have already been on the somewhat lower Central Peak) are still missing. Which of these four mountains are you saving up for next?
I actually wanted to go to Kangchenjunga this year.