"Failed successfully" – that's how I described my failure on the seven-thousander Putha Hiunchuli in western Nepal more than a decade ago, where I turned around 150 meters below the summit – completely exhausted. I knew at that moment and afterwards that it was the only possible and correct decision for me. I did not struggle with it. It was rather my environment that did that.
Perhaps David Göttler will have a similar experience. The German top mountaineer had planned to climb the eight-thousander Nanga Parbat together with the Frenchman Benjamin Védrines in alpine style – i.e. without bottled oxygen, without fixed high camps, without high altitude porters and without fixed ropes. Through the Rupal Face, via the so-called "Schell route" (named after the Austrian Hanns Schell, who climbed it in 1976). At 7,500 meters, already on the Diamir side of Nanga Parbat, Göttler and Védrines turned around.
David's bad day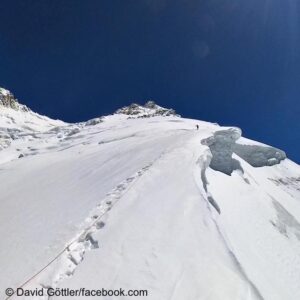 "It wasn't because of bad weather, nor bad conditions. We turned around because I had a bad day. That's it," David writes on Instagram. "I didn't feel how I knew I needed to feel for a summit day like that." Benjamin Védrines would have been strong enough to lead them both to the highest point at 8,125 meters, the 44-year-old believes. "But then what? The descent is not straight down; there's a long up and down traverse first. No fixed ropes of course, as we'd climbed up with just 60m of rope between us. There was no big track and no other climbers on the route: just Ben and I. That's the beauty of climbing a route like this in a style like this. The beauty and the cruelty of it. Having a bad day means not getting to the top."
"Sacrificing the ego"
Benjamin's decision to turn back was certainly even harder. The 31-year-old felt he was in top form, ready for the summit – and now had to decide whether to continue climbing alone or join David on the way down. "A phase of helplessness gripped me. Why today? I feel drawn to the summit, but tied down, blocked. My heart up, the mind down," the Frenchman describes his dilemma on Instagram. "There are two of us, roped, in light style. In solidarity and interdependent, for a common destiny. It is these moments in which the connection of the rope is sometimes as cruel as meaningful. That sense that calls for compassion, for sharing the pain, for sacrificing the ego for a conspiratorial unity, for better or for worse."
Benjamin admits that he had a hard time putting his ego on the back burner. In the end, though, he did and decided to go down together. "We set out two by two, we return two by two. That's also what makes the adventure, that's also what makes the alpine style," says Védrines, describing his motivations.
Humility and prudence
Even if in the end the summit success was not the crowning glory, David and Benjamin have achieved great things in my eyes. On the one hand, they remained true to their pure style on Nanga Parbat. And, as alpinists, they displayed that humble and circumspect attitude that has become so rare in times of commercial eight-thousander mountaineering. David Göttler recognized that an important component was missing in order to reach the summit and back again safely on his own responsibility (!). And Benjamin Védrines has put friendship above his own success. Hats off to both of them!
Failure is part of the game
For Göttler, it was the third failed attempt on the Schell route. In winter 2014, he had to turn back at 7,200 meters due to bad weather. In winter 2022, the end of the line was already at 6,200 meters, again the weather did not play along.
I would bet that David will return to Nanga Parbat. When it comes to advancing alpinism by exploring limits and crossing them if possible, failure tends to be the rule – and success is the exception. Persistence is also required. For as the ingenious U.S. American Thomas Alva Edison (1847-1931) said, who after countless failed attempts ultimately invented the light bulb: "I have not failed. I've just found 10,000 ways that won't work."