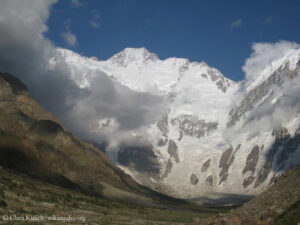 The first eight-thousander summit successes of commercial expeditions this summer in Pakistan were achieved today on Nanga Parbat. About two dozen climbers reportedly reached the summit of the ninth highest mountain on earth at 8,125 meters. Among them was the Pakistani Sajid Ali Sadpara, who, according to his own information, climbed without bottled oxygen and was part of the rope-fixing team.
For the 25-year-old son of the legendary Muhammad Ali Sadpara (1976-2021), it was the seventh of the 14 eight-thousanders. Sajid climbed six of them without breathing mask: Gasherbrum I and II, as well as Manaslu in 2022, Annapurna, Mount Everest and now Nanga Parbat in 2023. Only on his two ascents of K2 (in 2019 and 2022) did he use bottled oxygen. Sajid's stated goal is to scale all 14 eight-thousanders without breathing mask.
The Pakistani climbed together with 44-year-old Bolivian Hugo Ayaviri, who, like Sajid, dispensed with a breathing mask. Hugo had scaled Broad Peak and K2 in 2021 without bottled oxygen. On his descent from the summit of K2, he had helped Sajid retrieve the corpse of his father. Sajid had buried his father, who had died a few months earlier during a winter ascent attempt, in the snow near Camp 4 at almost 8000 meters.
Sophie Lavaud on all 14 eight-thousanders
Also on the summit of Nanga Parbat today was – with bottled oxygen – Swiss climber Sophie Lavaud. The 55-year-old, who in addition to the Swiss also has a French and a Canadian passport, thus completed her eight-thousander collection. In spring, she had summited Shishapangma in Tibet, her 13th eight-thousander.
In Turkish media, 51-year-old Tunc Findic is now celebrated as the country's first climber to stand on all 14 eight-thousanders after his summit success on Nanga Parbat. However, unlike Lavaud in 2022, the Turk did not reach the "True Summit" on Manaslu in 2013, but a somewhat lower point on the summit ridge. Unlike Lavaud, however, Tunc did not use a breathing mask on some ascents (such as Cho Oyu, Dhaulagiri and Manaslu).
Tenjen Sherpa and Kristin Harila tick off number 10
Nepalese mountain guide Tenjen Sherpa and Norwegian Kristin Harila continued their eight-thousander time hunt in familiar style. This time accompanied by three other Nepalese, they reached the summit of Nanga Parbat – wearing breathing masks. It was Tenjen and Kristin's tenth eight-thousander summit success in 60 days.
Fourth eight-thousander for 17-year-old
Also on the ninth highest mountain on earth today was 17-year-old Nepalese Nima Rinji Sherpa. Last fall, the teenager, then still 16, had scaled Manaslu. This spring he had Mount Everest and Lhotse follow. Nima Rinji is the youngest son of mountaineer Tashi Lakpa Sherpa, the managing director of Seven Summit Treks, Nepal's largest expedition operator.
All climbers whose summit successes were reported today from Nanga Parbat ascended via the normal route on the Diamir side, the western flank of the mountain.